Design Masters – Luxury Auction by Phillips de Pury & Company
This Auction by Phillips de Pury & Company it's your best chance to get your hands on some of the sexiest 20th century Modernist furniture on the market.
The Design Masters sale takes place at 450 Park Avenue, New York and will comprise 50 lots with a combined estimate of $5-7 million.
Highlights include:
EDWARD WILLIAM GODWIN, Rare early sideboard, circa 1867, $500,000–600,000. Godwin was a 19th-century British architect, designer, teacher, critic, and theater producer—in short an 'aesthetic polymath', as author Lionel Lambourne has called him. Godwin's progressive temperament was reflected in his willingness to embrace a wide range of influences including Japanese and Chinese culture, Shakespeare, Jacobean and earlier Gothic antecedents, and ancient Greece. Godwin's significance rests in part on his ability to distill the achievements of his forebears into a succinct, refined aesthetic.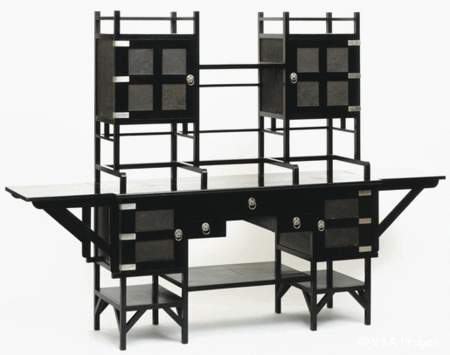 TIFFANY STUDIOS, 'Wisteria' table lamp, model no. 342, circa 1905, $500,000–700,000. Tiffany Studios, founded by legendary designer Louis Comfort Tiffany, was America's preeminent design firm of the early 20th century and was associated with American Art Nouveau and Aesthetic movements. Tiffany's handmade stained glass lamps and windows became known for their craftsmanship and for their elaborate floral patterns, influenced by the large number of women designers in Tiffany's studio – an uncommon occurrence for the time. The design team was led by Clara Driscoll, who is credited with the design of the current model.
GIO PONTI and PAOLO DE POLI, Important console, circa 1942, $100,000–150,000. The present table was the result of Ponti's long-standing interest in collaborations between artisan and designer; this console was designed by Ponti and comprised enamel copper panels by Paolo de Poli, master of enamelware. The works of enameled furniture produced by Ponti and De Poli during this period were characterized by fantasy and by enigmatic imagery such as labyrinths, as in the present lot. The table was one of a pair that stands out within Ponti's oeuvre for its formal delicacy and the remarkable refinement of its realization. The table is doubly significant both as a work of Ponti and as one of the prized possessions of the painter Filippo de Pisis.
SCOTT BURTON, Prototype 'Table for Four' from the 'Steel Furniture' series, circa 1978, $100,000–150,000. Scott Burton was both a sculptor and furniture designer known for his large scale works with metal and granite. The 'Steel Furniture' series explores the idea of a single piece of material as autonomous structure. This idea began in the furniture designs of the 1920s and 1930s. Burton then contextualizes this idea and makes it applicable to the present day by using modern industrial materials and processes. His 'Steel Furniture' designs are the expression of pure form and structure, utilizing elegant and relaxed lines juxtaposed with hard steel material to make simple yet visually arresting forms.
SHIRO KURAMATA, 'Laputa' bed, circa 1991, $80,000–120,000. The 'Laputa' bed was renowned Japanese designer Shiro Kuramata's final furniture design and displays his ability to combine multiple cultural references into a single object. Designed as a response to his bedroom brief at the group exhibition 'Il Dolce Stil Novo della Casa' (A Proposal for a New Life) in Florence, the 'Laputa' bed draws inspiration from literature. Laputa is the flying island from Gulliver's Travels. The island, which has a base made from the mythical material adamantine, hovers above the land of Balnibarbi. Looking at the body of Kuramata's work and his practice, it is possible to draw parallels with both of the above concepts: levitation (defying a physical force), and adamantine, a mythical material that shackled or destroyed the most formidable characters from Ancient Greek mythology to the Classics. With a high metallic surface finish, 'Laputa' has an extraterrestrial appearance as if galvanized in outer space, and, as the artist intended, the elongated form creates a dreamlike sense of levitation.
Auction 11 December 2012 4pm
450 Park Avenue, New York
Viewing
15 – 20 December
Monday – Saturday 10am-6pm
Sunday 12pm-6pm
Viewing Location
450 Park Avenue, New York
Enquiries
Meaghan Roddy
mroddy@phillipsdepury.com
+ 1 212 940 1266
Catalogues catalogues@phillipsdepury.com
+ 1 212 940 1240 New York
+ 44 20 7318 4039 London