Pantone Color of 2013: Emerald Decorations
It's finally official, designers and decoration lover around the world, the long-awaited Pantone color for 2013 is Emerald 17-5641.  This Green-colored pantone has a royal flair, that has a fantastic natural balance.  It's the perfect color to add impact to you decor; no doubt on that.
Their press release describes this color beautifully, the best possible way:
Most often associated with brilliant, precious gemstones, the perception of Emerald is sophisticated and luxurious. Since antiquity, this luminous, magnificent hue has been the color of beauty and new life in many cultures and religions. It's also the color of growth, renewal and prosperity – no other color conveys regeneration more than green. For centuries, many countries have chosen green to represent healing and unity.
Emerald for Interiors
Enhance your sense of well-being at home by rejuvenating the interior with Emerald paint, accents and accessories. This jewel-like hue will create a luxurious feel in an entryway, powder room, dining room or study, and bring life to a living room as an accent wall. Add a splash of color to the kitchen and dining room areas with Emerald dinnerware, stemware and appliances.
Let's begin with a fabulous piece of furniture, a Sideboard that touches the perfection in a home design piece. Boca do Lobo's DIAMOND in a Emerald Version:
Here is a way to add emerald green to your decor by pillows and curtains (I love the curtains), inspired by Luxury Living:
Keep on exploring the Pantone Emeral, with some suggestions by Houzz: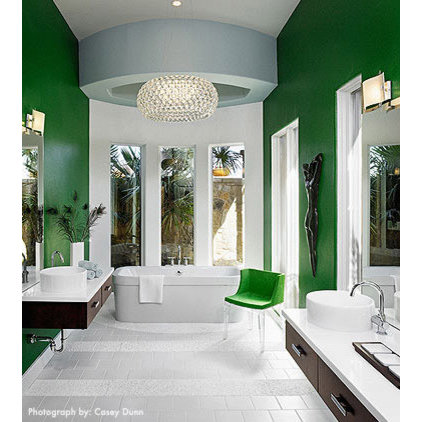 Glamorous accent pieces. As a jewel tone, it also lends elegance to rooms bedecked in metallics and marble.
Natural accent pieces. Because it's a color found in nature, emerald works with rustic natural materials, like glass, wood and rope.
Glam in the kitchen. This kitchen's emerald isle takes its hue from a luxurious floral Stark wall covering.
Glam in the bedroom. Malachite may come from nature, but it's a high-end kind of nature. This large-scale piece on the wall is a showstopper.
Natural in the bedroom. A cheeky faux bois bedspread and other natural textures create a restful, contemporary bedroom.
Glam chair.
A large and bright
porter's chair
makes a strong design statement in this bright white entryway.
Natural chair. Paired with warm and light neutrals, these green chairs enliven the room with their color and geometric pattern.
Natural in the office. Emerald hues were popular during the Arts and Crafts era, which looked to nature for color palettes.
Perfect pairing. I like a green such as emerald, kelly or apple best paired with crisp black and white. It's a graphically bold and fresh move.
What do you think of Pantone's decision?