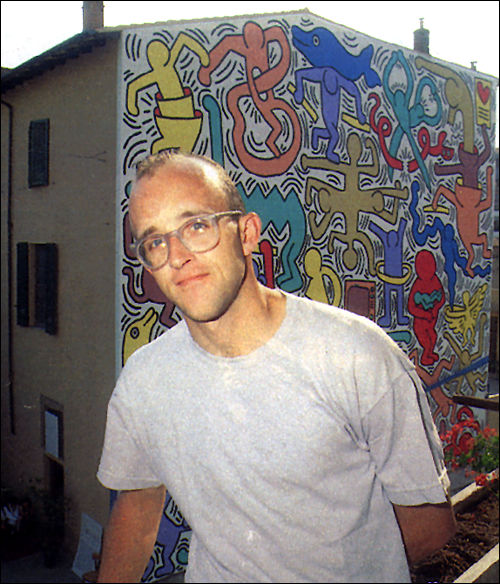 A few days ago, silosperroshablaran enjoyed reading an entertaining post of Professor Moriarty, blogger of Las Mil Vidas (LMVs) on Keith Haring and his artistic ability to blend the pop with the primitive and involve in his work, at the same time,  toWarhol, the photographer Mapplethorpe and the actress Grace Jones. What led us to realize that we shared a fascination with this pop art graffiti artist for whom the dog represented in his work one of the most important icons and revolutionaries, as a social and protest.
So today we have the special collaboration of Moriarty, talking about the Keith Haring´s work and his social dog. Here you have his post:

Keith Haring (1958-1990) at first drew on black panels that were used to cover old advertisements in the subway in New York , and did so anonymously and compulsive , we could say that is an ancestor of Bansky as " visible author " in the " Street Art " .
But soon it became a public figure since his message about " democratize art " , quickly noticed the " art scene of the time."
Early resorted to images of dogs barking , sometimes as a metaphor for the protest that people should do on the socioeconomic situation of the moment, and at other times as a symbol of the authoritarian and oppressive . Many times beside his famous " Radiant Baby " , a symbol of human potential .
"We decided that we loved you ,
which is pretty funny the first day that you meet someone .
My guide and protector,
my eyes and ears .
Never subtle to show their praise.
I never lie ,
and that's why I love him , I'm sure "
Keith Haring : " Dogs"