Organized twice a year, Maison&Objet is one of the major European events dedicated to decoration and design. For four days, the premises of the Paris-Nord Villepinte will be the center of attention of all professionals looking for new design and décor trends. Koket , once more will be part of this great event from 6 to 10 of September in Paris.
Maison et Object will receive exhibitors from all parts of the world, and they will show their HOME COLLECTIONS for Auttumn – Winter 2013/2014.Koket will be exhibiting Camilia Cabinet with a partnership with BRABBU – Design Forces – Hall 5B N22.
Designed passionately and exquisitely by the incomparable talents powering Koket, the Camilia was created to grace the most regal of dining rooms with its elegance and splendor. Inspired by the aristocratic palaces of the Alexandrian pashas of Egypt, the mother of pearl Camilia is crowned by artisan hand-carved peacock, meticulously engraved and delicately finished in gold leaf. It is only fitting that the Camilia's treasures be concealed by the most graceful of keys.
Fit for royalty, the Camilia has been created to complement the opulent, imperial dining rooms with its magnificence.
Read more at : http://bestdesignprojects.com/maison-object-sept-2013-with-koket-and-brabbu/#5
This month two of the greatest design trade shows are happening in London – 100% Design and Decorex International. These are two of the biggest events which are taking place in UK and after a long day of exploring and discovering the design features you might need to slow down, sit down, relax and collect your minds. We might help you with that. As you know London is one of the most "partying" cities in the world, and because enjoy it after a busy day. Why not having a cocktail with your friends in one of the city's top cocktail bars? Like we always do we suggest you a few.
The first bar name is 69 Colebrooke Row. Tony Conigliaro is working in this pub. He is known as one of the UK's pioneering drinks creators. He is looking for boundaries which could get broken concerned with the surrounding drinking experiences. He brings new methods into his cocktail repertoire, resulting in some ground-breaking cocktail menus.
The Booking Office Bar. The bar has a special interior design. It is related to an old station. It has a 29 meter long bar and fresh English fare. The Booking Office lists different types of punches and mixed drinks given from recipes from the Victorian era, as well as a range of bespoke and seasonal cocktails.
Read more at : http://bestdesignprojects.com/must-go-london-bars-during-100-design-show-decorex/#.UiiBGYXekrw
Delightfull
To simply state, the logistical and language barriers that are encountered when ordering from overseas are avoided; all inquiries, quotes, and orders are processed through our offices, ensuring prompt and detailed attention. However, they are not merely a distributer, but also a consulting company. As a firm, they understand the importance and difficulty that can occur when attempting to obtain such premier pieces. Therefore, backed by a talented team of product specialists and interior designers they strive to make sure that from the moment you fall in love with one of our pieces, it is fashioned and presented in an impeccable timely manner.
At DeMorais International, they take the frustration out of the ordering process, and leave you to simply enjoy the luxurious piece you fell in love with in the first place.
Read more at : http://bestdesignprojects.com/demorais-international-european-interior-decor/#.UicKF4Xekrw
The primary function of an underground station is allowing passengers to rapidly make the transition from one train to another. However, some cities have decided to convert them into authentic exhibition spaces or art galleries that showcase the pride of their country's culture or history thus, combining their practical function with something of beauty. Here are 5 of the world's most luxurious underground stations.
Komsomolskaya Underground Station in Moscow
Komsomolskaya underground station is located on the Koltsevaya Line of the Moscow Metro. It features large marble columns topped with pilasters, a Baroque-style vaulted ceiling and beautiful chandeliers.
Finally, there are eight large ceiling mosaics decorated with smalt and precious stones. They represent Russia's many battles for freedom and independence throughout history and were inspired by Stalin's speech in 1941 at the Red Army Parade on the Red Square in Moscow.
BurJuman Underground Station in Dubai
Each station in the Dubai underground is based on one of the four elements; wind, earth, fire and water thus lending them a beautiful, unique and futuristic appearance. However, the highlight is the Burjuman underground station or Khalid Bin al Waleed, easily one of the world's most beautiful and luxurious.
Read more at : http://bestdesignprojects.com/luxurious-underground-stations/#.UiXIVIXekrw
Beauty is synonymous to women and it's every woman's desire to take pride in glamorous possessions that speak volumes in sophistication and style.
KOKET is renowned for its innate desire to entice women. Designed by women for women, the Guilty Pleasure and & Exotic Opulence collection offers various pieces from case goods, upholstery, and lighting to soft goods, and rugs. Each piece reflects dramatic flair and compliments contemporary style with sophistication. The Exotica Dressing Table is highly desirable by women as it is trendy, sleek, influenced by decorative art and yet coquettish in its design.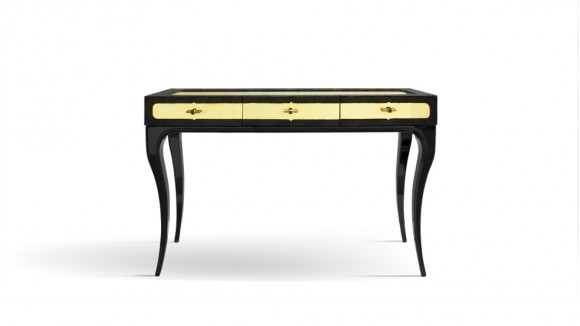 The Exotica Dressing Table is one such piece that has a luxurious appeal, classy design and intricate detailing. Exuding feelings of fantasy, this highly coveted Dressing Table is bold, daring and seductive. The ultra-soft reptile embossed velvet is juxtaposed with resilient emerald crystal tassels.
Read more at : http://bestdesignprojects.com/luxury-and-romance-with-sexy-furniture-by-koket/#.UiBbQoXekrw
They're often one of the last elements added to a room, window treatments—curtains, shades and other window details like shutters— and they can make a great statement. Curtains and wallpapers are quick an easy ways of give your home a brand new face. More cozy for the cold days in winter or fresh and bright colors to spring and summer.
The curtains are responsible for filtering the light, give privacy to a room, set styles in terms of decoration, protection from the sun, and hide defects that may have on your walls. Floral prints can bring to your home a natural harmony that combine with other elements like pads can create the sense that you are in a garden. Another trend is stripes – vertical, horizontal or diagonal stripes – can create different atmospheres and sizes in a room. Bold and vivid colors, chromatic motives and urban motives – for young people – are excellent ways to put your personal style in your home as well as the wallpapers.
Reado more at : http://bestdesignprojects.com/top-trends-for-your-home-curtains-and-wallpapers/#.Uh8AmYXekrw

Austin, Texas is home to plenty of transplants– all with some great style. This quaint little home on New York Avenue is the perfect abode with just the right amount of eclecticism. Owners Nick and Stephanie share the home with their dog, and the interior is a mixture of graphites, whites and natural wood.
Though it is a bit of an older home, the floor plan is quite open with the kitchen and living spaces running into one another. There are gallery walls galore in all of the rooms, with gold frames and red accents. A giant 'slow' sign sits above the french style settees and chairs, and the siding from the exterior carries on into the interior kitchen area.
Read more at : http://bestdesignprojects.com/eclectic-vintage-inspired-austin-home/#.Uh25U4Xekrw
ASOS is the UK's largest independent online-only fashion and beauty store. In 2012, MoreySmith was approached by the global fashion retailer to design an interior that would inject personality and brand identity into the ground and first floors of their London HQ at Greater London House, Hampstead Road, London.
MoreySmith has created a space that will act as a window to the ASOS brand, taking inspiration from ASOS's company values, and commitment to maintain the high calibre of recruits that it employs. Pattern, texture and colour play a central role in the design of this space, cleverly reflecting the energy of the brand and communicating the vibrancy of the ASOS company ethos.
The extensive 100,000 sq ft refurbishment has more than doubled the space ASOS currently occupies in the building. The design includes a flexible events space, a showcase/press area, fashion themed meeting rooms, open-plan offices and a tour route for visitors where they can follow the full journey of a garment from inception to completion, showcasing the innovative fashion and technology-led business.
New staircases connect three floors at the heart of the office space; including a reception, café, meeting rooms and coffee bar. This central hub brings a dynamic and dramatic impact to the ASOS brand identity and gives a creative and welcoming space for more than 1200 people, to collaborate and breakout from the open plan workspace.
Read more at : http://bestdesignprojects.com/asos-global-headquarters-by-moreysmith-london/#.UhsRCoWnzC8
Dubai-based Emirates has always been a leading airline in service and product, and today they upped the ante in their luxury offerings. The new Emirates Executive service will accommodate up to 19 passengers in an exclusive, private Airbus A319, bringing all of the posh amenities from the legacy Emirates service.
The aircraft will be equipped with a highly configurable dining and work lounge, ten first class sleeping suites and a premium shower spa, then stocked with Emirates catering and crew. The aircraft should have a range of about 3700 nautical miles.
Though it's fairly common for legacy airlines to offer charter service as an extension to their commercial product, launch of the Emirates Executive product is unique in that it takes their industry-leading first class and distils it into a 19 person corporate jet. And as their first class commercial product is often more expensive than the competition, you can expect that their charters will command a premium as well.
Read more at : http://bestdesignprojects.com/emirates-luxury-private-jet/#.UhceBYWnzC8
We just came across this marvelous scenario in Hampshire and could not miss this opportunity to show you this. It's a great idea, surrounded by water, a private set to enjoy the best moments in peace with the one you love the most. Watch the pictures and became speechless.
It started as a Fortress and then it was converted into a luxury private island and hotel after being disposed of by the Ministry of Defense in 1982.
Spitbank Fort is an unusual and historic sea fortress in the Solent, off Portsmouth. Now a luxury exclusive venue and hotel, the fort was formerly home to hundreds of soldiers guarding the approaches to Portsmouth. The arms and ammunition have long been removed, making way for nine luxuriously furnished bedroom suites, three bars, three restaurant areas, and spa facilities. You can also check how perfect it is for corporate rethreaths, weeding parties, private parties and thematic events at their website.
Read more at: http://bestdesignprojects.com/top-luxury-hotel-spitbank-fort/#.UhYQJoWnzC8
If you go to Queensland, it's mandatory to visit the Capricorn Coast. Sleeping up to 14 in five bedrooms, it includes a serene master suite separated from the main pavilion by a modern terrace. The sleek living and dining spaces are impressive, though ithe sea views are the main focus here.
Read more at : http://bestdesignprojects.com/best-holiday-houses-queensland/#.UhR9HoWnzC8
A romantic bedroom offers a warm and inviting atmosphere. It creates a soothing retreat for your tired spirit. It promotes intimacy. A romantic bedroom is often associated with softness, intricate details and splashes of red. It derives emphasis on emotions and content rather than order and form and the free expression of the passions and individuality.
Creating a spicy room can be fun and simple as changing your light fixtures, choosing warm lighting, altering your wall paint by getting bold, exotic wallpapers. Adding romance to your bedroom is a sweet idea. Either you share your bedroom with someone or not you could always choose to add a romantic flair to your most private spaces without a sweat. From dark and sensual to comfortable and tranquil the romantic designs that we have here will definitely appeal to your taste.
Moroccan bedroom decors
Read more : http://bestdesignprojects.com/luxury-bedrooms-romantic-ideas/#.UhNo6YWnzC8
LLI Design just completed a project in Crouch End, London, for a private client and we are showing you us the pictures of their amazing work. Usually known by creating beautifully crafted interiors for discerning clients. Their Design studio is in Highgate, London and the creative team is led by Design Director Linda Levene. Her background as a fashion and textile designer is reflected in her love of form, texture and colour.
The owners recently purchased a new build 3000 sq foot townhouse in Crouch End, North London enjoying views towards historic Alexander Palace. The house boasts a magnificent ground floor double volume space. The first floor living room overlooks the kitchen dining area  below and is linked via  glass balustraded feature staircase, the rear exterior double volume face is glazed to bring a sense of the outside in.
With such an airy environment it was important to maintain the drama of the space whilst bringing a human dimension by adding comfort and well scaled furniture so that the space  did not feel or appear too overwhelming. LLI Design's input at the build stage helped make this space warm and welcoming whilst emphasisng and maximising the drama.
Read more at : http://bestdesignprojects.com/top-private-project-in-crouch-end-london-by-lli-design/#.UgvZAIWnzC8