Mobile web design might not be your cup of tea but it is the latest trend that is too powerful to ignore. Just look around you and you will be in for a surprise. People are now finding mobile surfing more comfortable, easy and convenient than carrying their hefty laptop or so-called slimy netbook as the later option is almost next to impossible when you are on the fly. This is what has propelled the popularity of mobile web design in every sphere of our lives. But there are innumerable varieties of mobile phones available on the market, so how can you design a mobile website that will appeal to universal audience. Now, there is no simple answer to this problem and to make it worse, there are different mobile web browsers and operating systems that can make your life a misery. Here in this article, we are going to include some of the best examples of mobile website design and some practices that can help you to design a minuscule version of your existing website for the mobile maniacs.
Tips To Give Your Mobile Website a Fresh Look
Since the main objective of having a mobile website is to reach out to more people, you need to be a bit cautious while designing your website. Here are some issues that you should give adequate attention:
* Try to give it a dynamic look and do not try to feature all the elements in it.
* Give it space to breathe. Do not make it look like a visual garbage by incorporating all graphical elements.
* Try not to use flash because most of the mobile operating systems do not offer support for viewing flash files.
* Do not make it too heavy with glossy element since it will have detrimental impacts on your viewers.
* Try not to use long content as mobile user do not have much time to wade through long and boring content.
* Try to make your mobile website as user-friendly and search engine friendly as possible.
Now if you are still finding it difficult to get the hang of it, here are some amazing screen shots of some of the best mobile website designs that can inspire you greatly: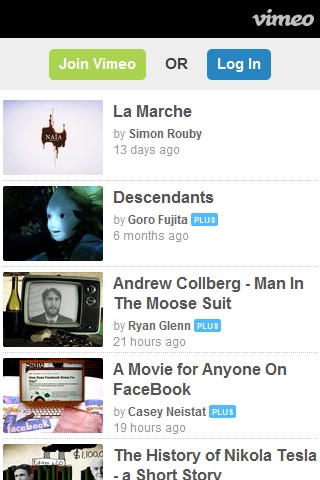 Video Mobile Website: Simple design that gives prominence to its call to action buttons. However, the design very much reflects the nature of this website. A truly vivid experience.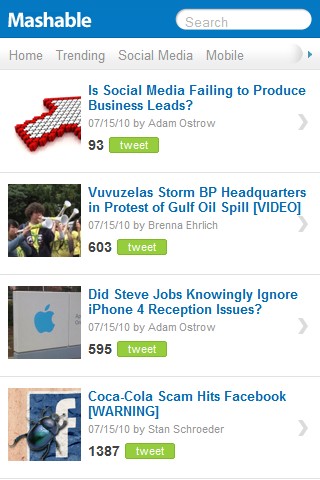 Mashable Mobile Web Design: A perfect example of how a social media major should look like in a smart phone. It truly tempts you to tweet the news. Go ahead and do it now.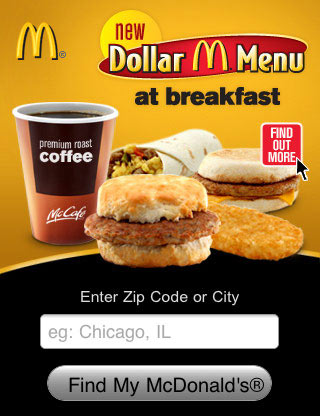 McDonald Mobile Web Design: It has almost everything that you can expect from a McDonald outlet. A mouth-watering collection of fast-food. There is an option to look for nearest McDonald shop right from its mobile version.
More info and Pics at WebGuru Blog
Design You Trust sponsors - advertise here!