Microweber – A Free, Open Source CMS
Some time ago I wrote about Microweber – a free, open source CMS that is the ultimate website building machine to help the regular users create websites, online shops and blogs. Time has passed and the software has gained some momentum which is of course great!
Microweber is now available in seven languages and has more than 1500 registered users. The team is working on themes aside from the current default one and promises a great variety, especially when developers and designers start using the code to create stunning themes and plug-ins.
But I guess that some of you don't really know why Microweber seems to be a good choice. So let me present some of its advantages.
Firstly, this CMS uses Drag & Drop, which lets you, the user, arrange your content pretty easy with just a click of the mouse. Just drag module or layout the screen and drop it afterwards! Pretty useful for those of you who have a great deal of products to arrange in your online shop for example.
What makes Microweber really unique is the so called Real time text writing & editing feature. Now, imagine you have a great website design, colorful, easy to navigate through, a pure pleasure to look at. This feature lets users work on the site itself, outside Admin panels. There is an Admin panel of course, but the "Live Edit" option lets you manage your content directly on your beautiful website. Pair this with the Drag & Drop and you have a kit to quick-and-easy maintenance of your own page!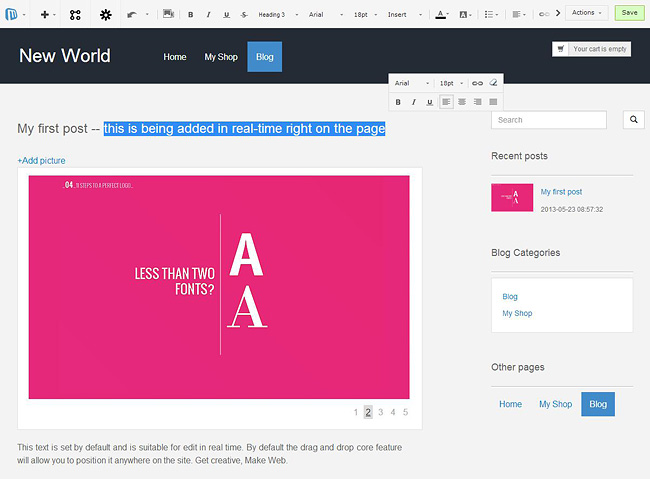 Microweber appears to be a great platform for all keen on e-commerce. There are many custom fields for shaping your product and starting your business: from different pricing & shipping costs to defining applicable taxes, excluding countries from list of deliveries, choosing payment methods…As far as the product itself is concerned you can specify colors, sizes and dimensions and many other custom fields and even track your order.
To those who want to keep a blog, I've got good news too. There are many different Modules and Layouts that make it easy to create a killer personal space to share content and talk about it with others. You can have multiple columns, or nicely designed buttons leading to outer links, or awesome galleries with your chosen photos in mere seconds due to the rich customization Microweber offers. Knowing that mobile technology does matter a lot, the team has thought about mobile versions too, so every website created with this CMS is 100% mobile-friendly.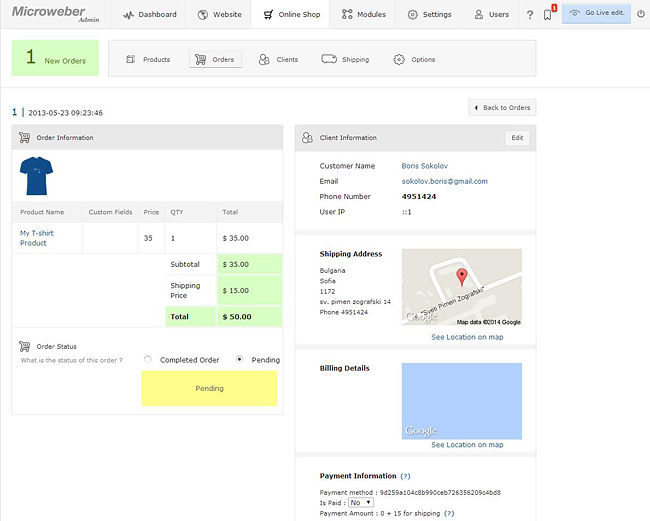 And don't forget – especially you, designers and developers, that the project is Open source. Everyone willing to have a go at the documentation and play with the code is more than welcome. Even more – Microweber's idea is to be a platform where beautiful ideas and creativity clash, ultimately resulting in creation of themes, modules and plug-ins which are then sold or distributed freely by their creators!
Be sure to check this CMS out and let me and the guys know about your thoughts on it. Remember that some stuff is still in the making, with focus on theme-customization and user guides, but be sure that Microweber will become something even greater pretty soon!
More Inspiring Stories On Design You Trust: