French artist Julie Gonce combines natural elements with sculpted glass forms to create unique pieces. Continue reading »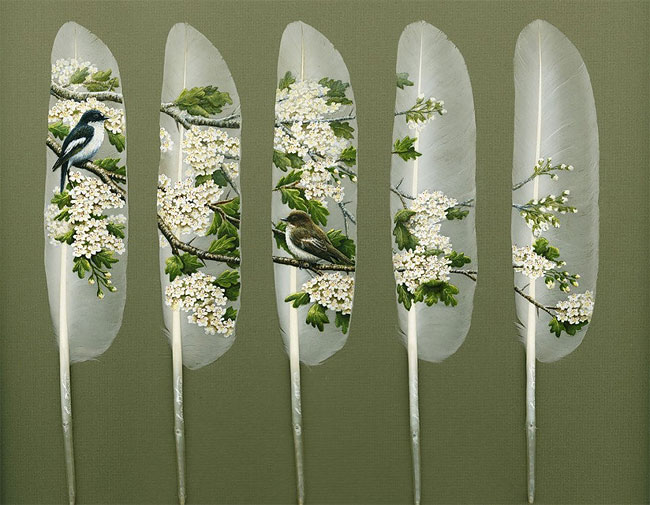 Many people have seen feathers as decorative items before. Today, ostrich, peacock and bird of paradise feathers can be seen in haute couture and in the costumes of indigenous peoples. They can be colorful and spectacular in their own right, but how much more stunning might they be when used as canvases for artists, eager to demonstrate their talent for the unusual? Alaskan-born and -bred artist Julie Thompson is an astounding exponent of this incredible art form. Continue reading »
The artist Saul Zanolari presents on the website www.saulzanolari.com his brand new portrait "Echography of Change" before the 2011′ scheduled shows in NYC and Rome.
The subjects of this artworks are Lady Gaga and Julie Andrews. The artist plays on the oximoron between tradition and transgression represented by these two icons. This portrait has a Disney background but on the lower side the reading key becomes surgical and medical with an echography of a new Gaga's creature. This artwork is full of hidden meanings, details and symbols. This is a new evolving step in the artistic growth of Saul Zanolari.
The original artwork is 79'x70′ (200×180 cm), digital painting and acrylic on canvas. Soon available a 100 limited edition print on paper 20'x18′ (50×45 cm) on http://www.wollipeye.com.