Spectacular Winning Images of The 2022 Australia's National Photographic Portrait Prize
Wayne Quilliam's Silent Strength, a photograph of Aurukun man Eric Yunkaporta, has won the 2022 national photographic portrait prize. Quilliam says the capture of Yunkaporta in ceremonial headwear is akin to a trickle of water merging into a small stream, then into the ocean.
The Shuttle


As Melbourne struggles through many days of restrictions, with limited options to play and learn for the kids, four-year-old astronaut Mia puts on her homemade space suit and helmet and goes on exploration missions in the familiar neighbourhood, using her imagination to turn the mundane world around her into an exciting adventure. This photograph is one of the memories from our daily walks, one of the stories we found. The lockdowns have ended. We'll outgrow the costume. But the time spent together exploring and imagining is one special gift to keep. Photograph: Andrew Rovenko
More: National Portrait Gallery, Instagram
Stella


Stella Fernando is photographed on the banks of the Gwydir River, where her grandson Gordon Copeland, a 22-year-old Gomeroi man, was last seen. His body was found three months later not far from there. Photograph: Michael Bowers
Where Have All The Flowers Gone


Where Have All the Flowers Gone explores the fading magic of supernatural worlds in which Melbourne-based performance and visual artists Will and Garrett Huxley cast themselves as exquisite outsiders, isolated and ornate; existing on the fringes of places and the margins of society; finding love and solace in the florid arms of queer utopia. Photograph: The Huxleys
Fertility


Felicity lives across the road from me. We live in a small country town. She works as a nurse and her hobby is taxidermy. Felicity loves cowboys, enjoying a drink with the girls and her domestic pets. Here you can see one of her chickens made into a red-eyed lamp (no chickens were hurt– the chook died of old age). Felicity is a fierce, independent woman who is also unapologetically herself. Photograph: Nina Hanley
You are loved


It was the last time we were together at the house. I felt a sense of urgency to photograph Mum. We woke up early and I asked her to stand by the old lemon tree. In her arms she cradled the wooden sculpture that once belonged to my grandfather. The wooden face of an old man blowing with puffed-up cheeks and wild hair, so deeply interwoven with the memory of him. A longing to hold on to this moment for as long as possible: my mother, my grandfather and I. Photograph: Tom Goldner
Truth be Told 1


As dark histories are usually untold or diluted, these images portray a common theme of language revival in modern Indigenous communities. Language not only self-identifies, it carries the ethical values of ancestors – the knowledge systems that make them one with the land, that are crucial to survival and that create the foundations for our youth. Photograph: Simone Arnol
Bushwalk


During a five-day bushwalk across their traditional homelands in West Arnhem Land, Vernon Garnarradj and his daughter Vinnisha follow a fire lit by members of their clan. These cool burns move slowly, burning only the undergrowth and removing the build-up of fuel that feeds bigger blazes. Narwarddeken people do not see fire as bad or destructive, but as a way to rejuvenate the land and bring their country back to life. Photograph: Matthew Abbott
Siegi


Siegi's early morning ocean swims have become a part of her daily ritual since moving to the Gold Coast 19 years ago. Now 82 years of age, Siegi continues to swim throughout every season and rarely misses a day. She joined a group of swimmers affectionately known as The Dingoes, and on this particular day, Siegi made her daily pilgrimage amid the lingering remains of a nearby fire that filled the atmosphere. Photograph: Stephanie Connell
Martha Singing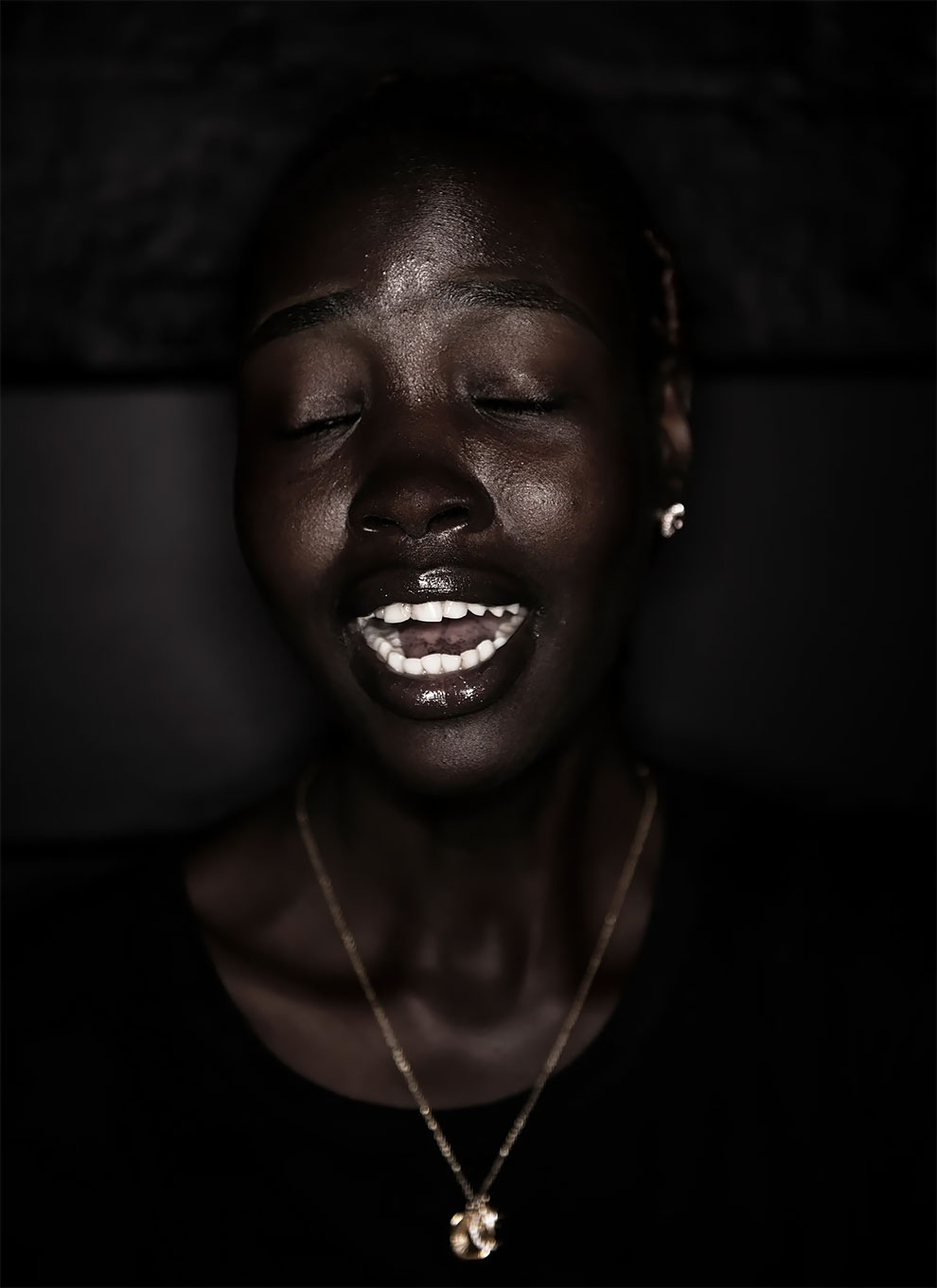 Martha is a member of the Bendigo South Sudanese Ensemble, formed in 2019. Every week they would come together to ideate, compose, sing and practise their craft, working towards a performance celebrating their culture and heritage. The photo was taken in The Engine Room, a black box performance space that is quite disorienting to be in when the lights are low. I wanted a sense of the subjects floating in the space, emphasising the feeling of being cut off and isolated by the pandemic. Photograph: Michael Wolfe
Last day lockdown


The final hours of our 14-day home isolation during the 2021 Covid-19 pandemic. Photograph: Klint Collier
Indigo


Forest activist Indigo heads into the Takayna/Tarkine forests on the west coast of Lutruwita/Tasmania, dressed as an endangered wedge-tailed eagle. Over 75 days though the bitter winter of 2021 activists halted development of roads to a proposed mine tailings waste dam. The tailings dam is yet to be built. Photograph: Matthew Newton

Carlos Soyos, 34, a migrant from Guatemala City and his son, Enderson Soyos, eight, take a self-portrait at El Buen Samaritano migrant shelter, Juarez, Mexico.The life of a migrant at the Mexico–United States border waiting for the right moment to cross into the US is often in flux. Photograph: Adam Ferguson
Tween Twilight


Every stage of parenthood brings beauty and challenges. My daughters now enter the tween phase, moving between childhood innocence and adolescence's rambunctiousness. It is a time of monumental shifts as they search for a sense of self and are enticed to fit in with their peer group by their dress, talk and actions. Observing them in this stage makes me reminiscent of my childhood, leaving me pondering the meaning and importance of identity. As they discover new facets of themselves, I rediscover how I became who I am. Photograph: Natalie Grono
Orlando and Wilson


I was slightly bemused when Orlando and Wilson finally got to connect face-to-face over the summer break. The lifelong friends had been separated all year while attending different schools, a year that challenged an entire generation of high school students. For months, all Orlando could speak about was that Wilson would join him at the beach in December. When Wilson actually turned up, they spent virtually all their time communicating via smartphones rather than face-to-face conversations, even though they were literally sitting side by side for days on end. Photograph: Chris Budgeon
Ella B Rowe (right view)


I had never truly seen a pregnant body until I saw my own. I've known personal transformations, but not like this one. When I look at parts of my growing motherhood, I see my mother, aunties, grandmothers, cousin sisters. I see a first home for my baby. I see sacrifice where doubt was never considered or had to be abandoned. I see my purpose explained. My sexual, intimate, private commitment to myself, presenting and healing me. A journey of transition, matrescence. Everything has changed and will never be the same again. I have surrendered to this great gift of life. Photograph: Shea Kirk
In Leopard Print


This self portrait is a part of a series, Beneath the Burqa, that aims to shed light on the blackout of domestic violence against women in Arab countries and communities, and to also encourage men to begin to speak out about the issue. This particular piece is inspired by the traditional clothing worn by women during prayer rituals, which has evolved past the customary plain white confines. Photograph: Ayman Kaake
Greg & Orbit


Lockdown self portrait with cat. Photograph: Greg Stoodley
Amanda


Amanda lives in my street. He wishes he was born in the 21st century so he could be a woman. Photograph: Francis Cloake
Cordy in the Clouds


I first saw Cordy (which means 'spirit of the sunrise' in the traditional language of the Tjungundji people of far north Queensland) when he walked past me on my first day in Charters Towers. I was immediately mesmerised by his presence. Months later I had the chance to meet with him. He shared his story and told me of a visit to India for an archaeology conference where the locals greeted him as a holy man. I hadn't seen clouds in the sky for weeks but while taking his portrait they rolled in behind him as if on cue. Photograph: Adam Haddrick
Three lemons for Simon


Fran in the kitchen in Murrurundi, NSW. Photograph: David Darcy
The Zammitt Family


A portrait of the Zammitt family at their western Sydney home, with their dogs, Benji and Beau. Brian Zammitt (second from left) is the head of his booming family business, BAMS Hygiene Management, one of Australia's leading deep cleaning companies, which specialises in disinfecting workplaces and locations contaminated with Covid-19. His wife, Sandra, and daughters Natalie and Louisa all play key frontline roles in the business. Photograph: John Janson-Moore
Breast cancer, age 37


At age 36 I was diagnosed with breast cancer. As I searched to understand my diagnosis, prognosis and treatment options, I was bombarded with endless photos of mostly older women, smiling in pink. The brave warriors who had survived – thriving and happy. But as a young single mum of two, contemplating my life being cut short – I wasn't smiling, I was in pain. The toxic positivity of being shown only happy survivors simply added to my anguish. I'm not brave, thriving, happy. I'm scared, scarred and numb. Photograph: Cat Leedon
If you want more awesome content, subscribe to 'Oh, Design You Trust,' our brand new Facebook page! Trust me, you won't be disappointed.
More Inspiring Stories