The Mystery Creature that Nobody Can Identify Found in China
If this cute little chap looks a wee bit confused, it's no wonder. His big wide eyes stare out at the world around him – which in turn is staring back at him. Because nobody has seen a creature quite like this one before.
With a nose that looks more like a rodent's but long, pointy paws and white fur dappled with brown and orange, he is quite unique. And zookeepers at Wenling, in eastern China, who were handed the animal by an anonymous man, have been unable to work out exactly what species he belongs to.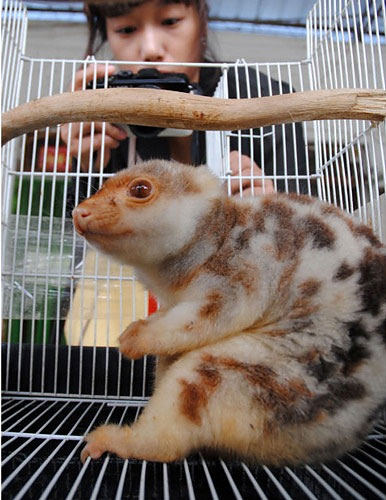 They think they are looking at some strange type of monkey – but other students of nature might recognise the characteristics of a bush baby. As he sits in his cage, the creature therefore awaits an uncertain fate. And the zookeepers sit and monitor his development and hopes he grows up into something slightly more recognisable.
Via.
If you want more awesome content, subscribe to 'Oh, Design You Trust,' our brand new Facebook page! Trust me, you won't be disappointed.
More Inspiring Stories