Barrett-Jackson Auto Auction: From Zero to Sexy
A restored '63 Chevy Corvette, with a V7 twin-turbo mid-engine, which can take you from 0 to 60 in less than 3 seconds. A 1988 custom-built Kittredge K350 two-man submarine with a maximum operating depth of 350 feet. How about Willie Nelson's golf cart? If it's a vehicle, and even if it's not, it might be on display – and on sale – at the Barrett-Jackson Auto Auction, which is celebrating its 10th anniversary in Palm Beach County with its show running Thursday through Saturday at the South Florida Fairgrounds. Photography by Greg Lovett/The Palm Beach Post.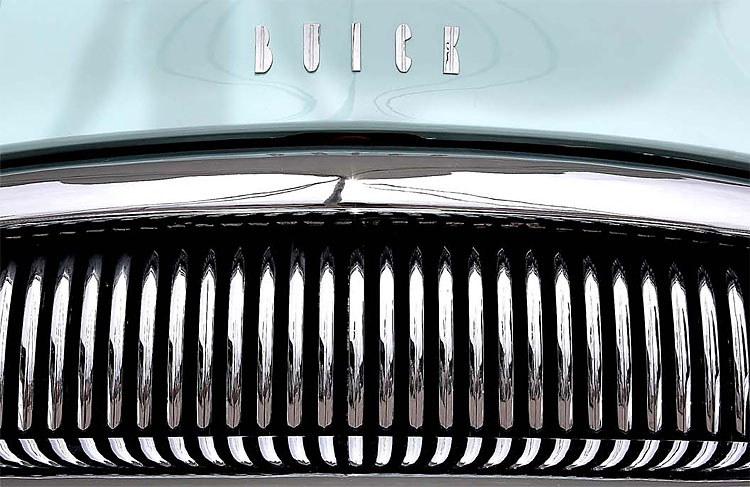 A 1957 Chevrolet Bel Air 2 Door Hardtop.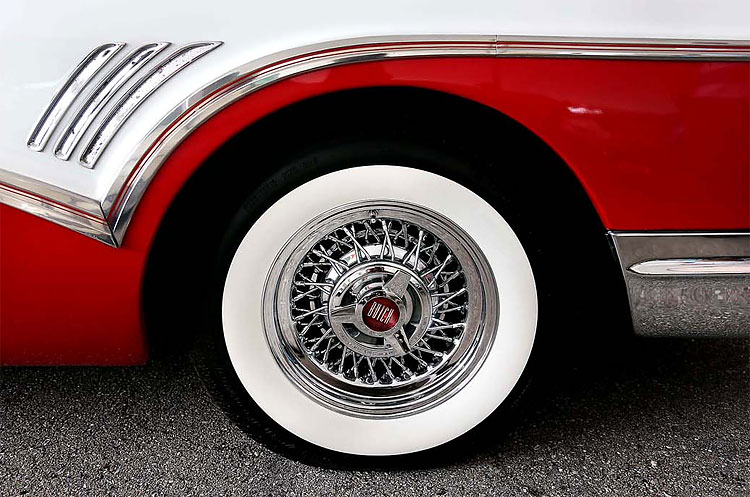 A 1957 Buick Roadmaster 2 Door Hardtop.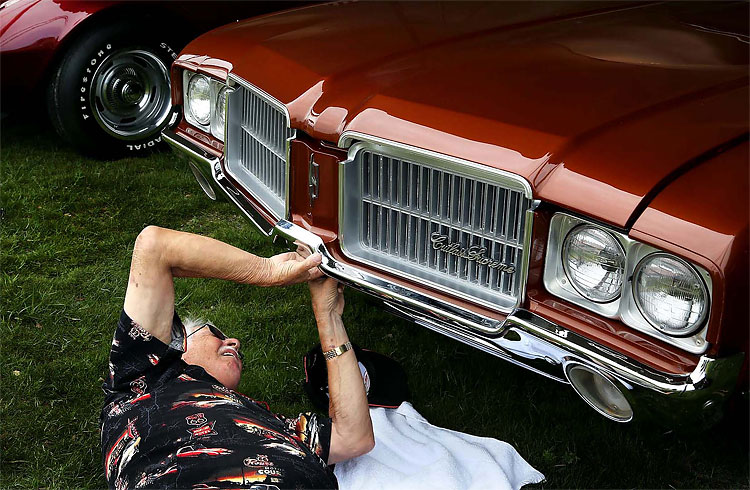 Vic Mette, of Ft. Walton Beach, works to fasten the hood release that came loose as he drove his 1971 Oldsmobile Cutlass to the auction.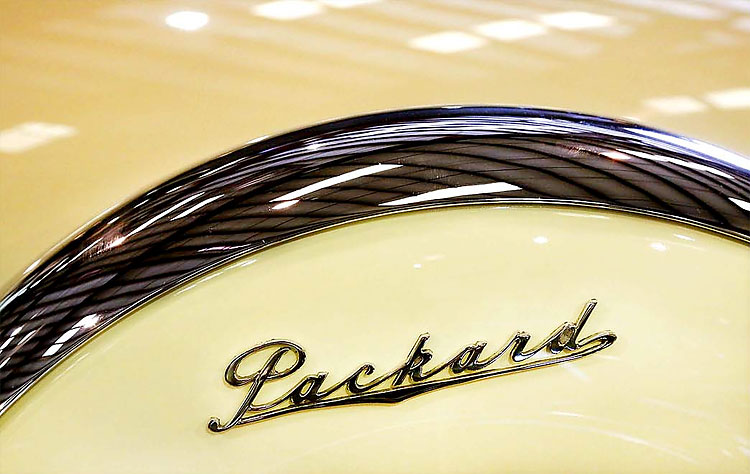 A 1953 Packard Caribbean Convertible.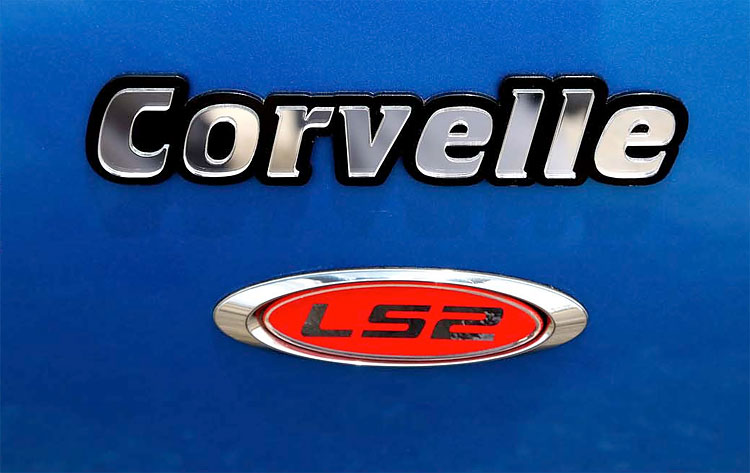 A 1968 Chevrolet Corvelle.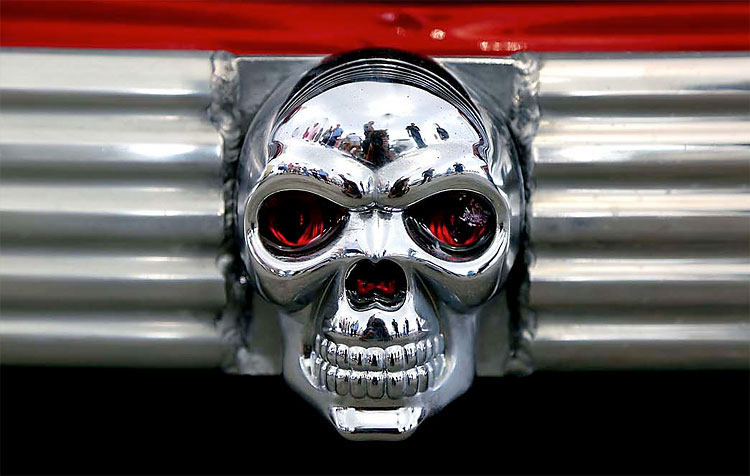 A 1951 Custom 2 Door Coupe.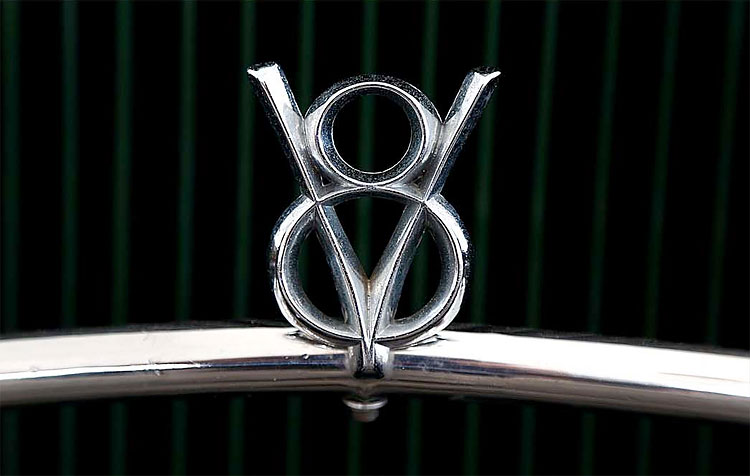 A 1932 Ford Model B Pickup.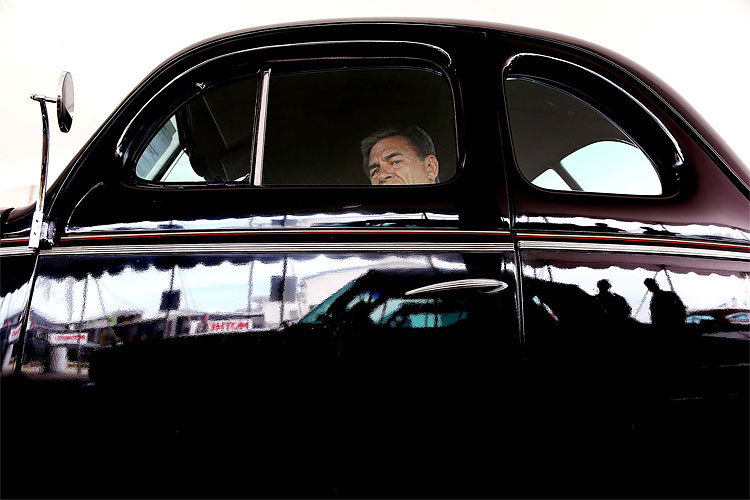 Dick Steimel, of Fort Lauderdale, peers out the window of a 1940 Ford Deluxe Custom 2 Door Coupe.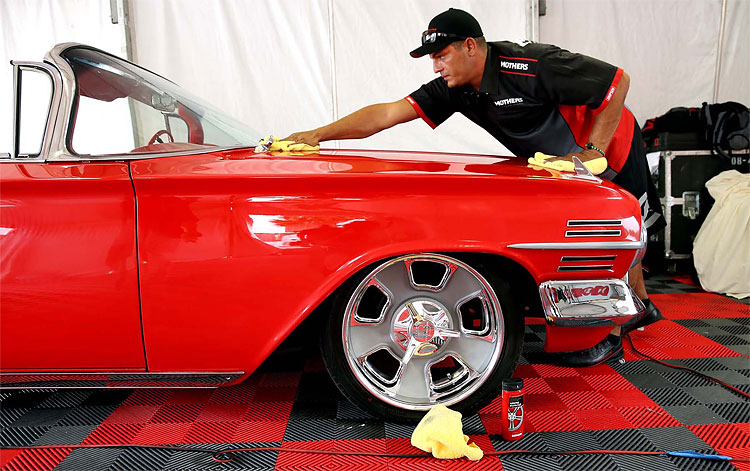 Mothers professional detailer Cesar Hernandez of West Palm Beach, polishes a 1961 Chevrolet Impala Bubble Top.
A dice cap on the wheel of a 1951 Mercury Custom 2 Door Coupe.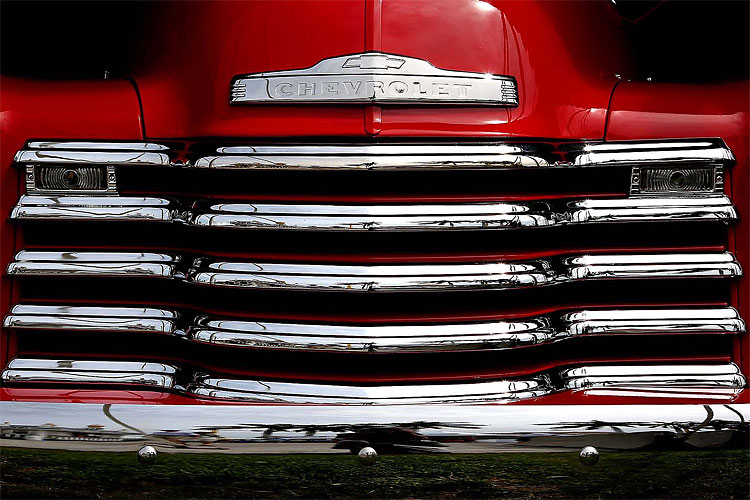 A 1950 Chevrolet Short Bed Pickup.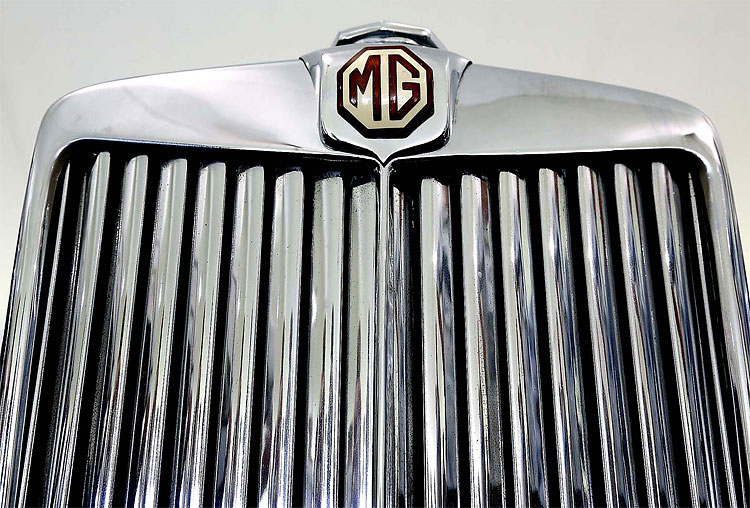 A 1949 MG TC Convertible.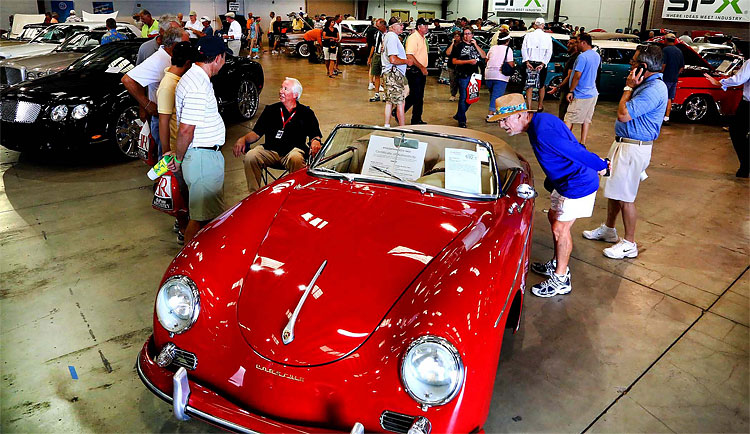 Spectators gather around a 1959 Porsche 356A Convertible D with tan interior.
Gordy Chilson, of Lawrenceville, Pennsylvania, appreciates the neon signs on display at the auction. "Everything here is the best. That's what I really love about it. This is the 4th year in a row for me."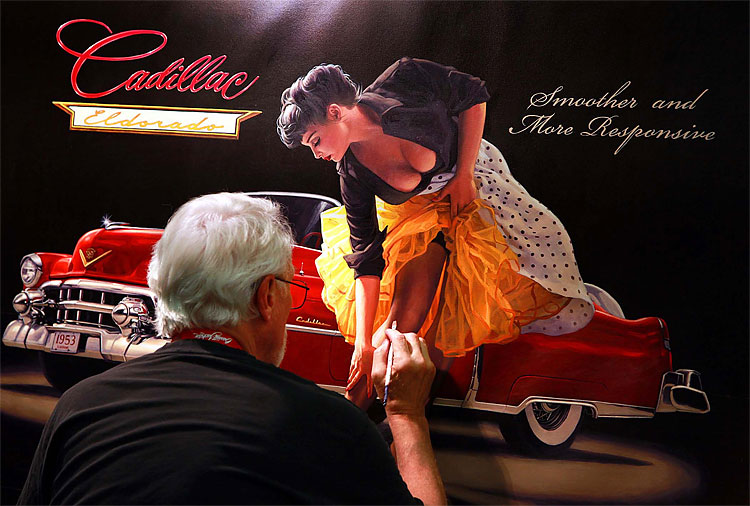 Artist Greg Hildebrandt puts the finishing touches on a painting on the 1953 Cadillac El Dorado in Aztec Red with a Fabulous Brunette. This is part of his American Beauties Vintage Pinup art series. The acrylic on canvas original can be purchased for $25,000.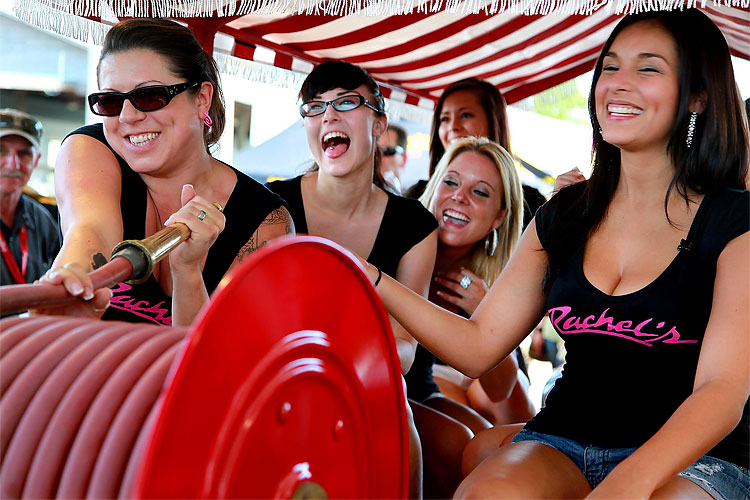 Girls from Rachel's Gentleman's Club and Steak House in West Palm Beach, ride in the back of a 1949 Crosley Hook and Ladder Fire Truck. The girls cheered for the highest bidder who paid $35,200 for the vehicle.
A 1956 Ford Victoria 2 Door Hardtop.
A 1956 Crown Victoria Skyliner 2 Door Hardtop.
A 1949 Crosley Hook and Ladder Fire Truck.
Country singer Willie Nelson's former 1981 electric golf cart with Rolls Royce features, wet bar on board and named the The 19th hole. It was a gift from his wife Connie, but was seized by the IRS and auctioned. A bidder paid $4,675 for the cart at this year's auction.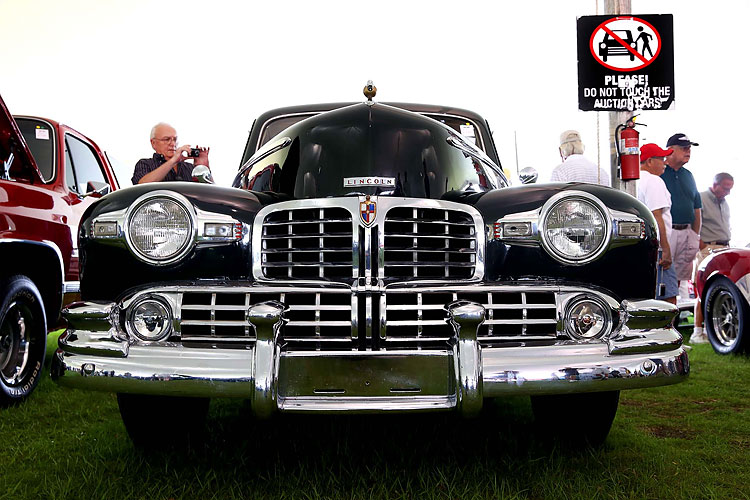 Frank Dziewit snaps a photograph of a 1947 Lincoln Zephyr 4 Door Sedan.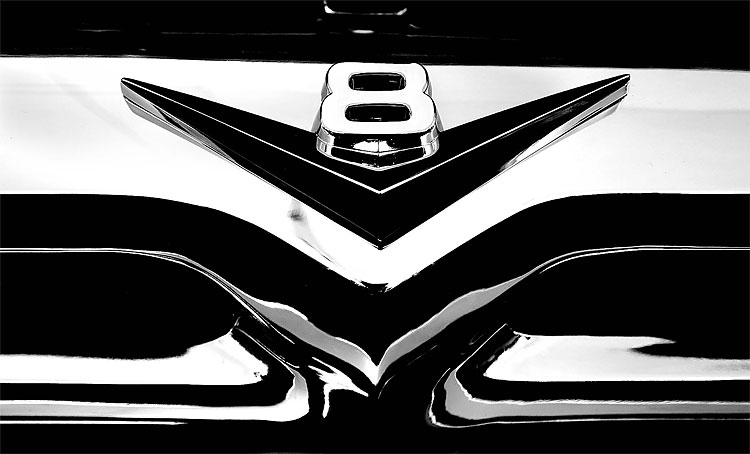 A 1956 Ford F-350 Custom Truck.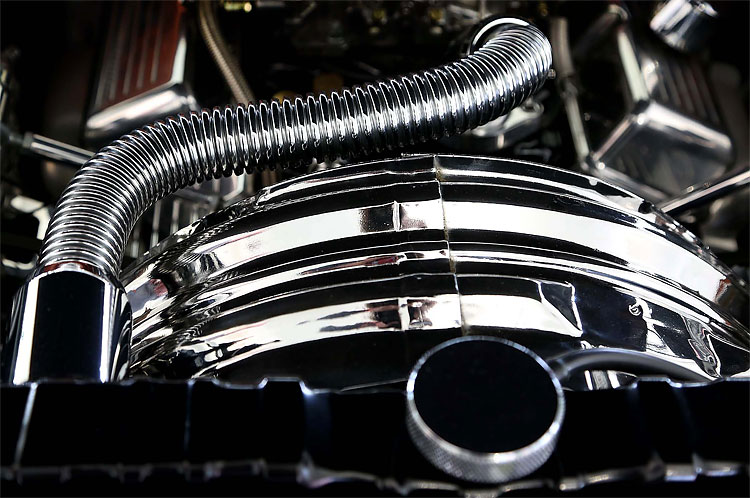 A 1960 Chevrolet Impala 2 Door Hardtop with a freshly overhauled 350cid engine with two 4 barrel carburetors and 350 turbo transmission.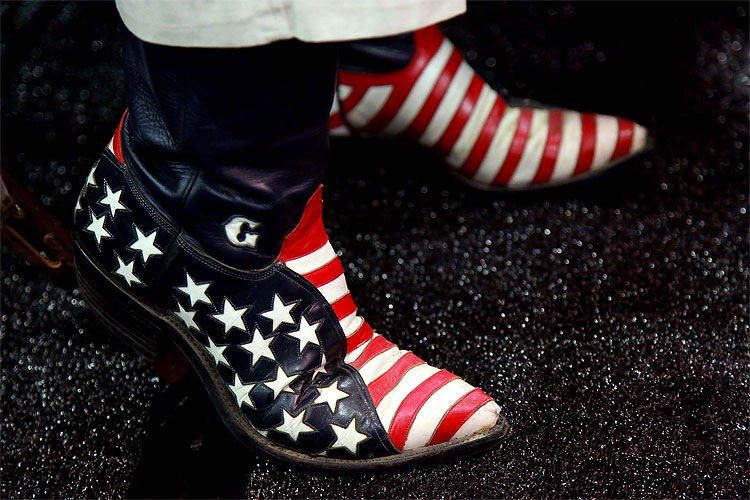 An auction bidder sports a pair of stairs and stripes styled cowboy boots.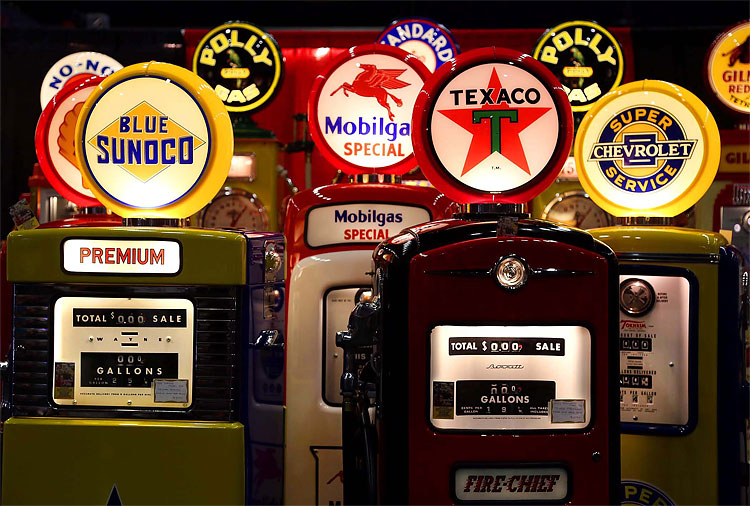 Restored gas station pumps on display.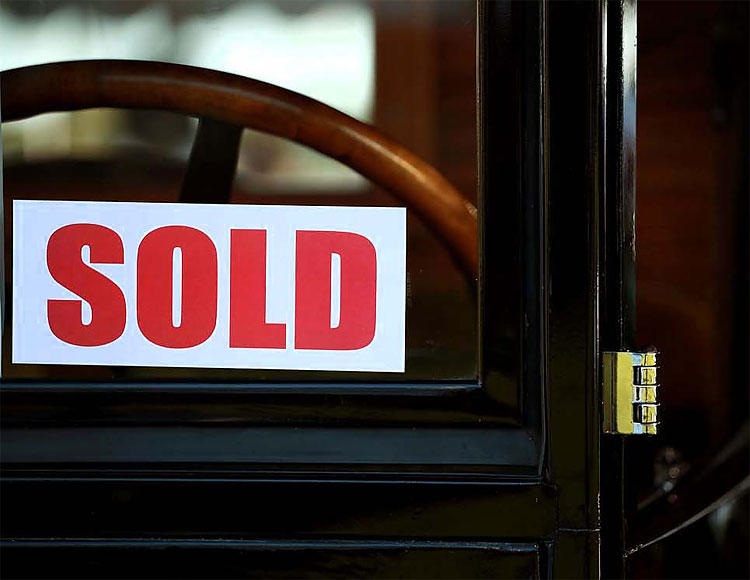 A 1928 Dodge Pickup that sold for $14,300.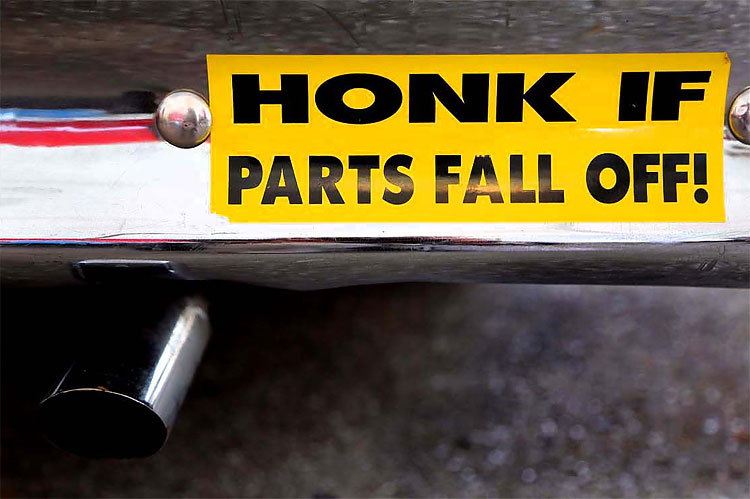 A bumper sticker on the back of a 1958 Edsel Corsair 2 Door Hard Top that sold for $9,900.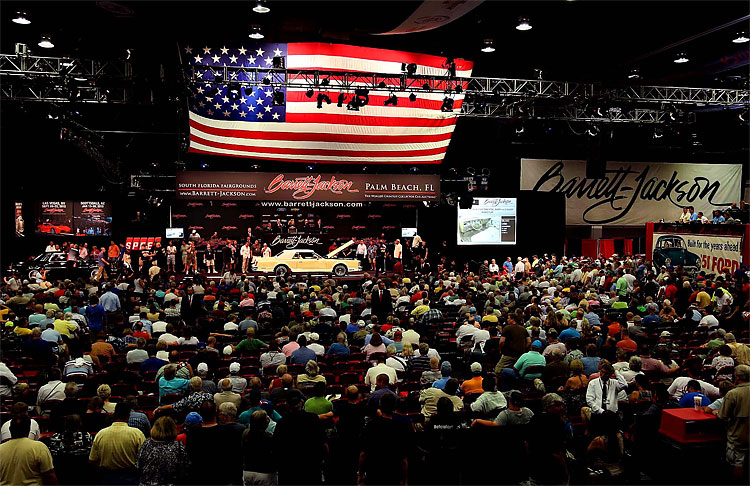 A packed house looks at a 1979 Lincoln Mark V up for auction.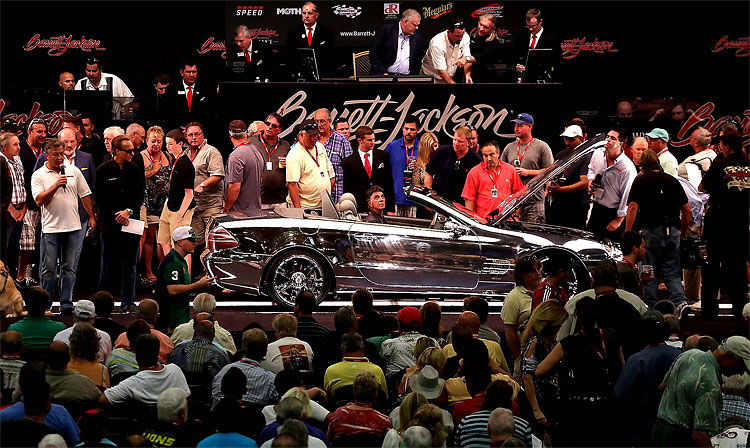 A 2004 Mercedes SL600 RENNtech "Chrome Edition" is on the auction block.
The 2004 Mercedes SL600 RENNtech "Chrome Edition" is pushed off the auction block after selling for $155,000. Robert Bassam, of Washington D.C., purchased the automobile; the money will go to the Doug Mansfield Foundation Trust, a Sarasota based charity that provides seeing eye dogs for children and blind veterans.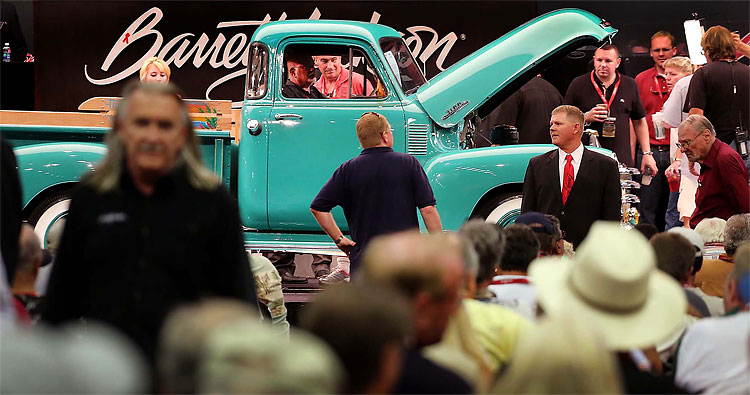 A 1953 Chevrolet 3100 Pickup is inspected by bidders on the auction block.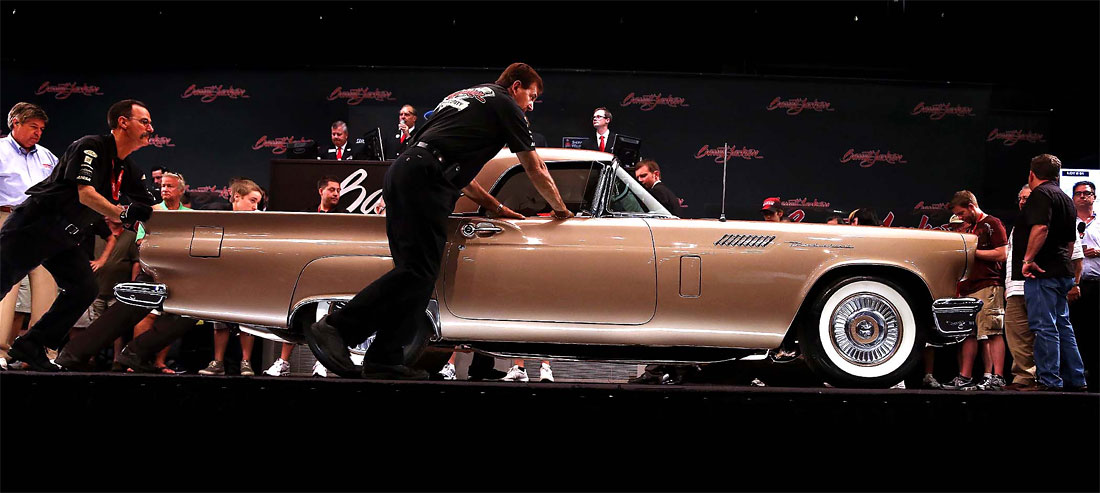 A 1957 Ford Thunderbird is pushed away after selling for $33,000. Click image to zoom.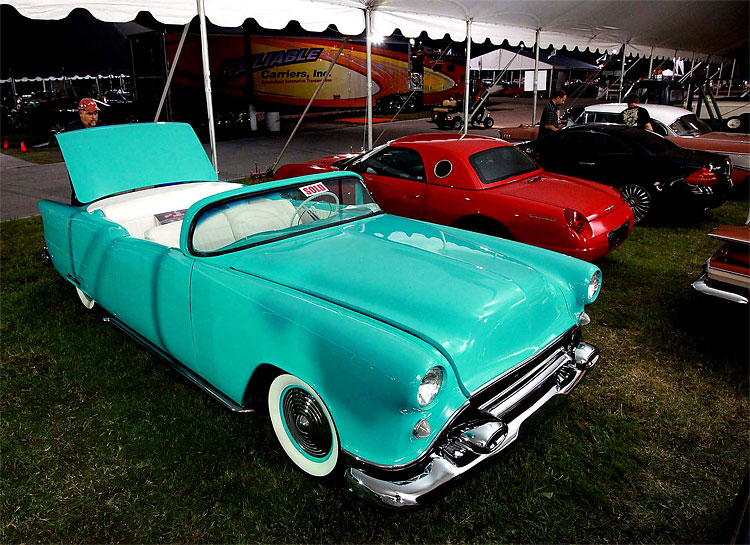 An auction driver closes the trunk of a 1954 Oldsmobile Holiday Custom Roadster after it sold for $30,800.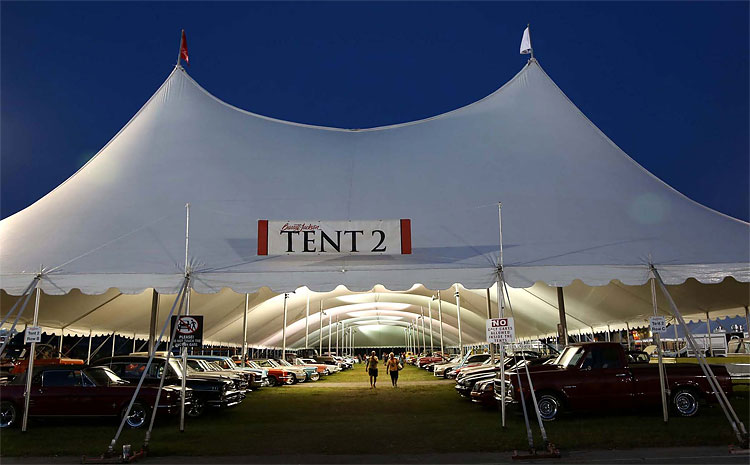 Car enthusiasts take one last look at the cars at the end of the day's auction.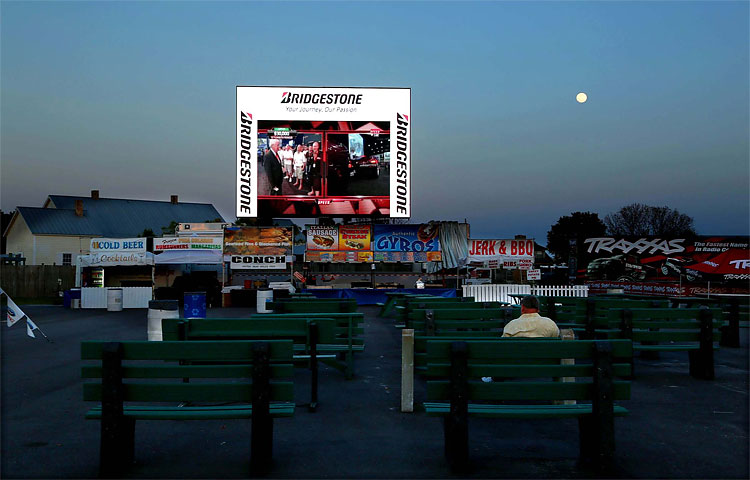 One man watches the big screen as the last few cars are auctioned at the end of the day.
If you want more awesome content, subscribe to 'Oh, Design You Trust,' our brand new Facebook page! Trust me, you won't be disappointed.
More Inspiring Stories