Christo and Jeanne-Claude, the Art Rebels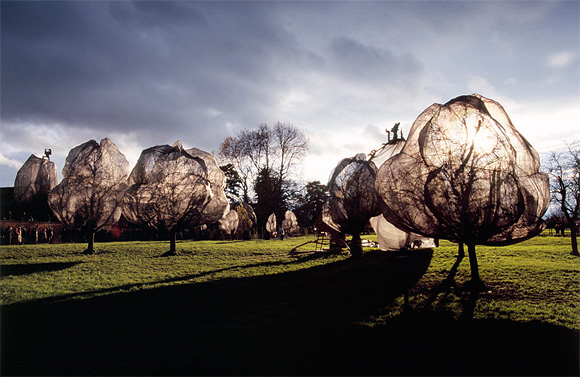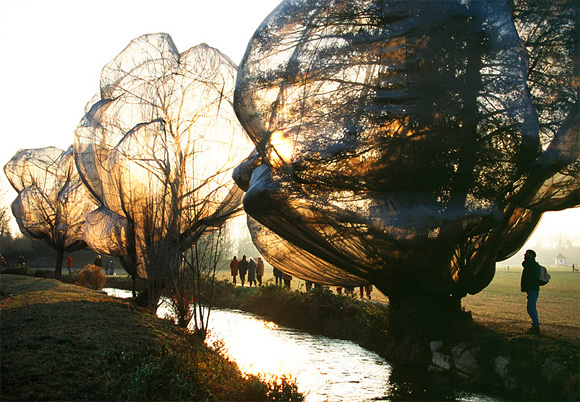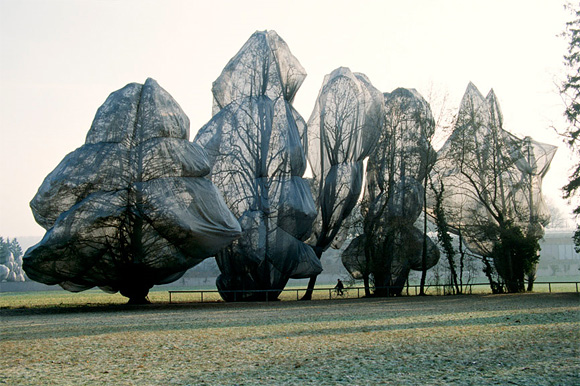 Wrapped Trees, Fondation Beyler, Berower Park, Riehen, Switzerland, 1997-98
Starting on Friday, November 13, 1998, 178 trees were wrapped with 55,000 square meters (592,034 square feet) of woven polyester fabric (used every winter in Japan to protect the trees from frost and heavy snow) and 23.1 kilometers (14.35 miles) of rope. The wrapping was completed on November 22.
Christo and Jeanne-Claude have created art together as partners for more than 4 decades. They are married and have a son, Cyril, born in 1960, who is a published poet and writer. Christo and Jeanne-Claude conceive of the projects together. Then Christo makes drawings, scale-models and other preparatory art of the artwork. Christo and Jeanne-Claude sell directly to art collectors, museums and art dealers.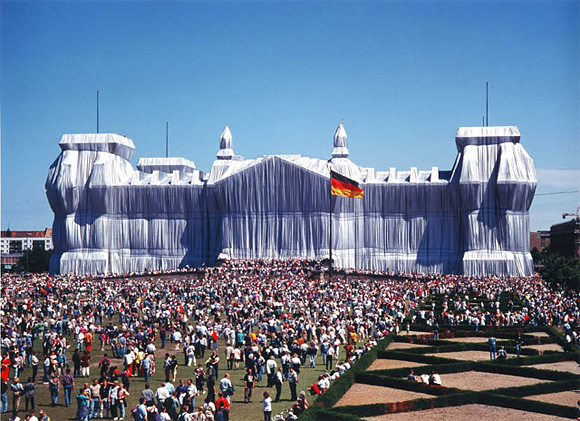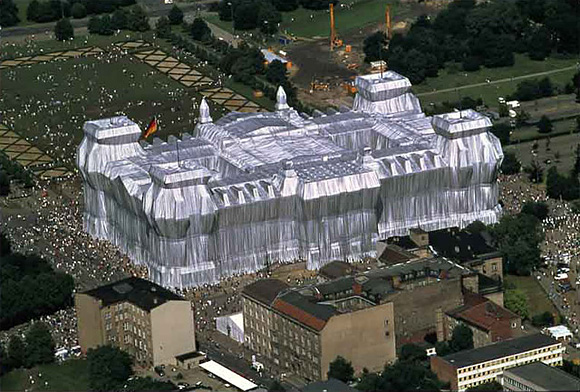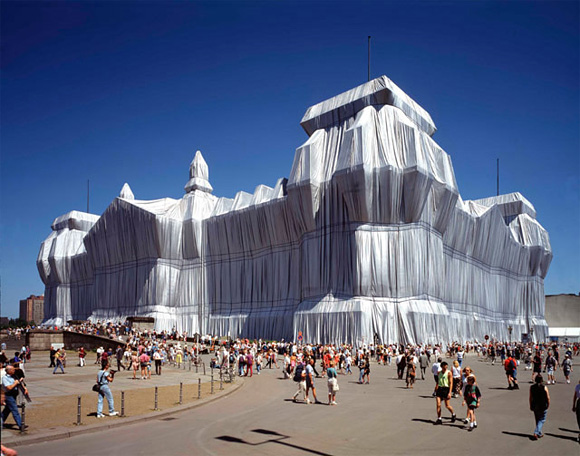 Wrapped Reichstag®, Berlin 1971-95
After a struggle spanning through the Seventies, Eighties and Nineties, the wrapping of the Reichstag was completed on June 24th, 1995 by a work force of 90 professional climbers and 120 installation workers. The Reichstag remained wrapped for 14 days and all materials were recycled.
Ten companies in Germany started in September 1994 to manufacture all the various
materials according to the specifications of the engineers. During the months of April, May and June 1995, iron workers installed the steel structures on the towers, the roof, the statues and the stone vases to allow the folds of fabric to cascade from the roof down to the ground.
100,000 square meters (1,076,000 square feet) of thick woven polypropylene fabric with an aluminum surface and 15,600 meters (51,181 feet) of blue polypropylene rope, diameter 3.2 cm. (1.25″), were used for the wrapping of the Reichstag. The façades, the towers and the roof were covered by 70 tailor-made fabric panels, twice as much fabric as the surface of the building.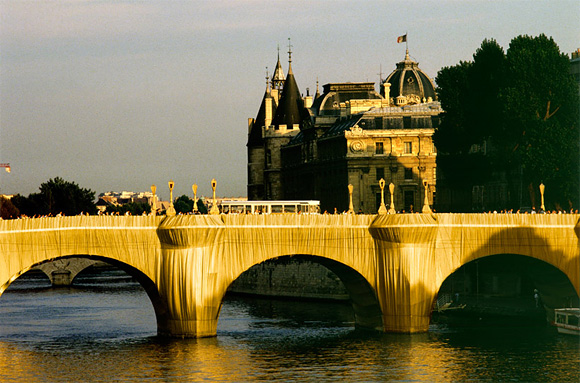 THE PONT NEUF WRAPPED: Paris 1975-85
On September 22, 1985, a group of 300 professional workers completed the temporary work of art The Pont Neuf Wrapped. They had deployed 40,876 square meters (454,178 square feet) of woven polyamide fabric, silky in appearance and golden sandstone in color. The fabric was restrained by 13,076 meters (42,900 feet) of rope and secured by 12.1 metric tons (11.8 long tons) of steel chains encircling the base of each tower, 1 meter (3.3 feet ) underwater.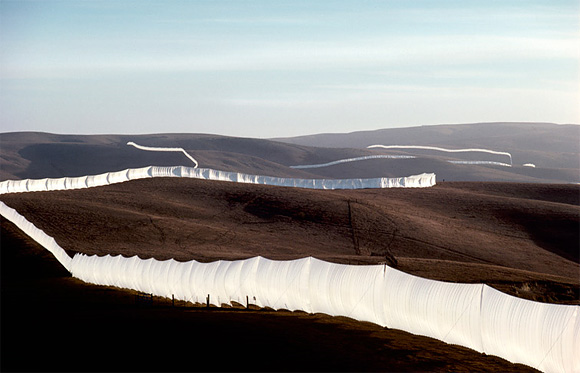 Running Fence: Sonoma snd Marin Counties, California, 1972-76
Running Fence, 5.5 meters (eighteen feet) high, 40 kilometers (twenty-four and half miles) long, extending East-West near Freeway 101, north of San Francisco, on the private properties of fifty-nine ranchers, following rolling hills and dropping down to the Pacific Ocean at Bodega Bay, was completed on September 10, 1976.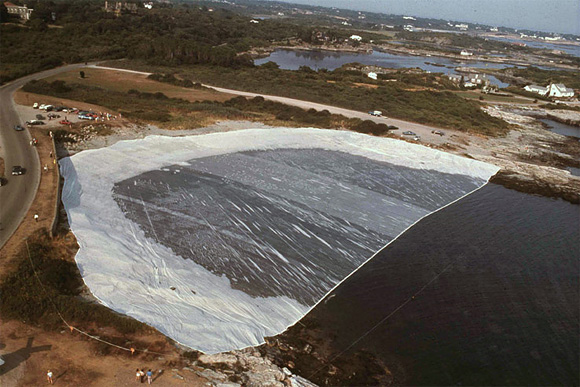 Ocean Front, Newport, Rhode Island, 1974
Width: 128 meters (420 feet)
Length: 97.5 meters (320 feet)
For a period of eighteen days, 13,500 square meters (150,000 square feet) of white woven polypropylene floating fabric covered the surface of the water of a half-moon shaped cove at King's Beach in Newport Rhode Island. The cove is located on the southern exposure of Ocean Drive, facing the portion of Long Island Sound that meets the Atlantic.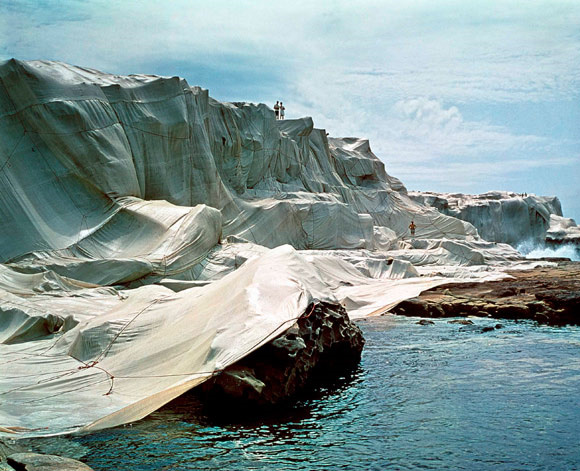 Wrapped Coast, Little Bay, Australia 1968-69
Little Bay, property of Prince Henry Hospital, is located 14.5 kilometers (9 miles), southeast of the center of Sydney.
The cliff-lined shore area that was wrapped is approximately 2.4 kilometers (1.5 miles) long, 46 to 244 meters (150 to 800 feet) wide, 26 meters (85 feet) high at the northern cliffs, and was at sea level at the southern sandy beach.
One million square feet of erosion control fabric (synthetic woven fiber usually manufactured for agricultural purposes), were used for the wrapping. 56.3 kilometers (35 miles) of polypropylene rope, 3.8 centimeter diameter (1.5″ ), tied the fabric to the rocks.
If you want more awesome content, subscribe to 'Oh, Design You Trust,' our brand new Facebook page! Trust me, you won't be disappointed.
More Inspiring Stories