Blackwater Photographer Captures A Young Octopus With A Transparent Head, And You Can Even See Its Brain
We humans have successfully photographed a black hole, landed rovers on Mars, and sent spacecraft to the dark side of the moon. However, our very own planet remains one of the last unknown frontiers – one that is deceptively familiar, too.
More: 500px, Facebook h/t: boredpanda
The ocean is the lifeblood of Earth, covering over 70 percent of the planet's surface, driving weather, regulating temperature, and ultimately supporting life. Throughout history, the ocean has been a vital source of transport, commerce, growth, and inspiration.
But more than 80% of the ocean remains unexplored. Drawn by this mystery, Taipei-based photographer Wu Yung-sen has been shooting underwater for years.
"I heard about blackwater photography during a conversation with my friends and I immediately started working in this unique field," Wu Yung-sen told Bored Panda. "First of all, you must learn the characteristics of blackwater creatures. Then you have to understand which areas are suitable for this activity, how to attract blackwater creatures, and how to keep yourself safe."
Wu Yung-sen said that after one completes all the above, everything basically boils down to luck. "I come back with nothing from most of my shoots."
"My shooting depth is usually about 15-30 meters (50-100 feet), because the movement range of blackwater creatures is around 5 to 2000 meters (16 to 6,500 feet)," the photographer explained. "I can't go any deeper than 45 meters (147 feet) because of the limitation of [my] diving equipment."
Wu Yung-sen's portfolio has a lot of other cool creatures too:
When it comes to actually pulling off the desired shot, Wu Yung-sen said the most difficult thing to control is the reflection of suspended particles matter in water. "If the position of the underwater flashlight is wrong then the subject will not be sharp enough."
"Getting the correct light will reduce the reflection of suspended particles and the subject will stand out in the photo. In addition, most of the blackwater creatures are transparent, and the eye area is easy to overexpose."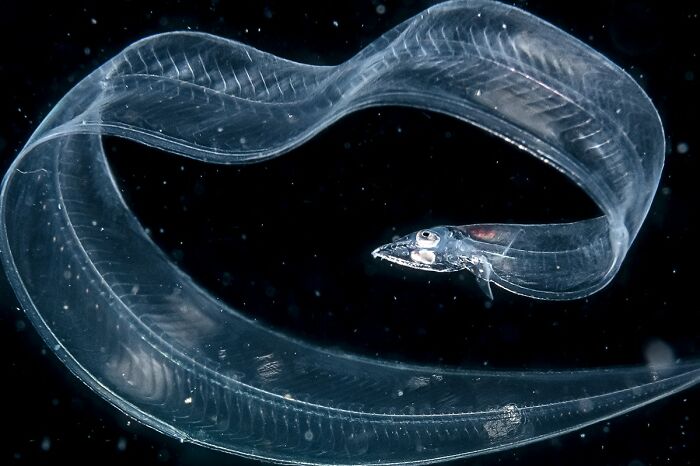 If you want more awesome content, subscribe to 'Oh, Design You Trust,' our brand new Facebook page! Trust me, you won't be disappointed.
More Inspiring Stories