Captivating Cuisine: Exploring the Anime Genre of Food through AI
"Fried Corn In Istanbul"

Food in anime has become a genre of its own, captivating viewers with exaggerated and colorful dishes that are sure to stimulate the senses. From the characters' enthusiastic reactions to the variety of foods featured, anime food has the power to evoke sentimental feelings in its audience.
h/t: boredpanda
"Swedish Pastries"

But can this fantasy become a reality? Is it possible to bring the vibrant and appetizing meals from anime to life? This is a question that a woman in Ukraine set out to answer. Through experimentation with AI tools, she stylized a collection of photos of the meals they had eaten during their travels, resulting in a captivating anime series featuring food that never existed before.
"Here I Am On A Diet"

"I Can't Even Tell What Those Vegetables Are"

"A Bouquet Of Ukrainian Radishes"

"Butterfly Treats At The Copenhagen Botanical Garden"

"My English Breakfast"

"Don't Ask What It Was, I Liked It"

"Brussels Sprouts With Lemon And Porridge"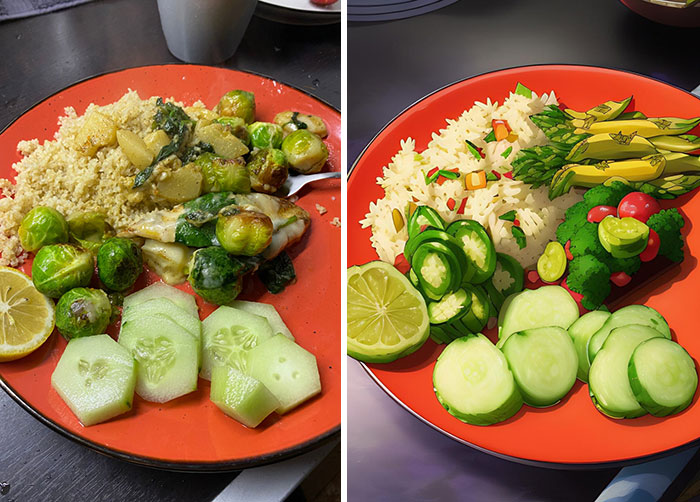 "Fried Tuna With Veggies In Portugal, And A Glass Of Wine"

"Asian Soup Turned… Borscht??"

"This Asian Soup Gets More Interesting Every Time"

"Canned Gherkins Overlooking The Lagoon"

"Jackpot. Chinese Noodles And Coke In The Faroe Islands"

"My Grocery Cart In Dublin"

"Canned Potatoes In Copenhagen"

"Boiled Potatoes Remind Me Of Gyoza Dumplings"

"Baked Chicken With Herbs In Bologna"

"A Bottle Of Jólaöl In The Faroe Islands"

"My Grocery Cart In Bruges"

"A Small Breakfast On Madeira Island"

"A Ton Of Pasta"

"Zucchini With Lemon On A Hot Summer Day"

"Yellow Something"

If you want more awesome content, subscribe to 'Oh, Design You Trust,' our brand new Facebook page! Trust me, you won't be disappointed.
More Inspiring Stories