Stylish New Yorkers Pose For Portraits With Their Bikes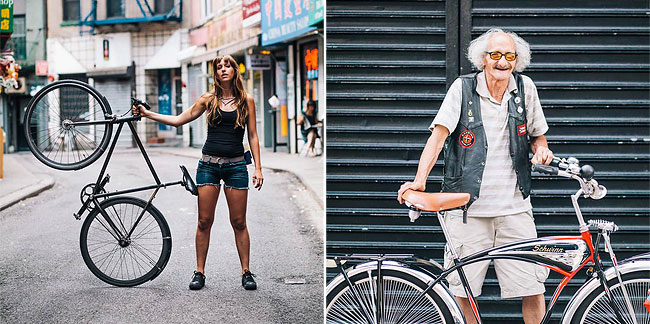 New York is a bike-friendly place where anyone can hop on a 2-wheeled vehicle and zip right past the taxis and all around town. In a city where all kinds of people sport all kinds of bikes, photographer Sam Polcer decided to document the wide range of personalities across the five boroughs in his series, called 'Preferred Mode.'
Each of his portraits stylishly portrays urban riders in their leather jackets, T-shirts, or business suits standing alongside their selected mode of transportation. His colorful collection conveys the unique and expressive individuality of each NYC resident and was recently published by Prestel publishing as a book titled New York Bike Style.
"I fell in love with biking here in New York City," explains Polcer. "Once you realize what biking in New York can do for you as a New Yorker – being able to explore places that you wouldn't normally explore, get places faster, see neighborhoods better, meet cool people, and do that without having to struggle on the subway, or taking buses, or taking cabs, or getting stuck in traffic – It opens the city to you in a way that nothing else can."
h/t: mymodernmet, featureshoot
If you want more awesome content, subscribe to 'Oh, Design You Trust,' our brand new Facebook page! Trust me, you won't be disappointed.
More Inspiring Stories