World's Largest Slug is Bigger, Slimier, and Way Cooler Than You'd Imagine
Behold the super-slimy awesomeness that is the Black Sea Hare (Aplysia vaccaria), the world's largest species of sea slug, weighing up to 30 lbs and measuring over 3 feet long. Black Sea Hares come to shore to lay their eggs and are apparently even slimier to the touch than they look.
More info: Coyote Peterson, Wikipedia (h/t: nerdist)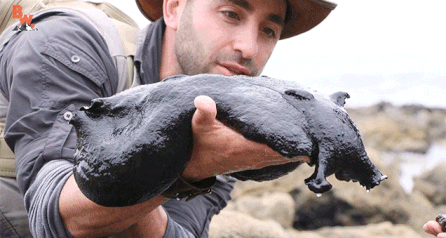 Watch as Coyote Peterson of the Brave Wilderness Channel and tide pool expert Aron Sanchez encounter a spectacular specimen of this colossal gastropod mollusk in a tide pools off the coast of the Pacific Ocean in San Pedro, CA:
If you want more awesome content, subscribe to 'Oh, Design You Trust,' our brand new Facebook page! Trust me, you won't be disappointed.
More Inspiring Stories