Last Delivery of Brand New VW Campervans Arrives in the UK After Brazil Factory Stops Production of Iconic Vehicles
The last ever delivery of brand new Volkswagen campervans has arrived in Britain, heralding the end of an era for the iconic 'hippy bus'. Ninety-nine of the final batch of vans rolled off the production line and onto a container ship bound for Britain after manufacture ceased for good in Brazil in December. The consignment has just arrived at the only British importer, but already most of them have been snapped up by enthusiasts more than happy to pay the £35,000 starting price.
They are the last brand new campers in all of Europe.

The last new consignment ever of VW campervans arrives at Southampton docks. (Danbury/BNPS)



Danbury Motorcaravans will transform these vehicles with their empty interiors and factory white-paint jobs into luxury versions of the old classic. (Danbury/BNPS)

Another transporter arrives to deliver the last ever VW campervans to Danbury MotorCaravans in Yate, Bristol. (Laura Jones/BNPS)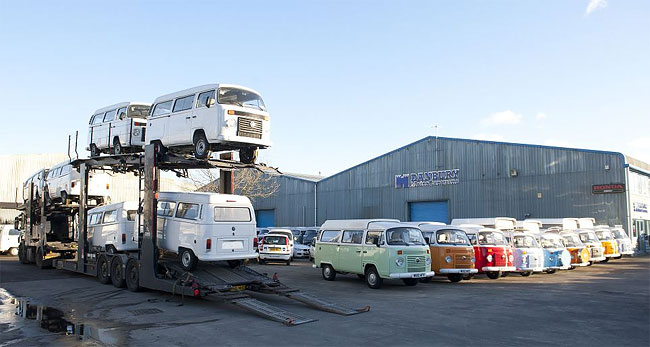 The Bristol-based company has been turning the VW Type 2 Komb vans into beloved campers since the model was first launched in 1950. (Laura Jones/BNPS)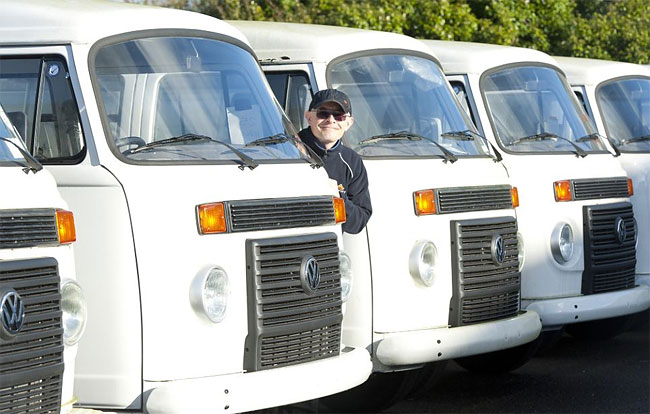 Jason Jones of Danbury MotorCaravans hides peeks out from among the rows of brand-new vehicles. (Laura Jones/BNPS)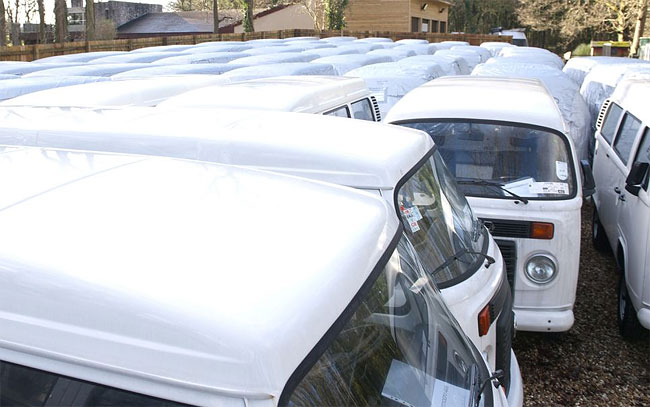 Danbury have already sold all but 20 of the very last batch and say it will be a sad day when the last VW Type 2 leaves the factory. (Laura Jones/BNPS)

Danbury Motorcaravans production manager Matthew Bees with some of the last delivery of VW campervans. (Laura Jones/BNPS)
Credits: The Daily Mail
If you want more awesome content, subscribe to 'Oh, Design You Trust,' our brand new Facebook page! Trust me, you won't be disappointed.
More Inspiring Stories