Fascinating Images from the Past You Won't Find in Any History Textbook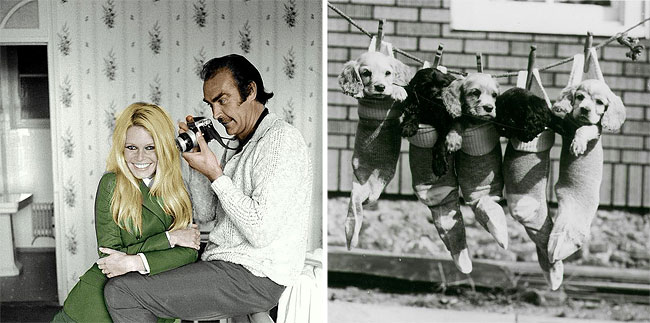 Among the multitude of photographs we have inherited from the past, there are those which have entire life stories behind them. They are silent witnesses to events and the atmosphere of another era now lost forever.
Marilyn Monroe, date unknown.
Yuri Gagarin and Gina Lollobrigida. Moscow, 1961.
A domesticated koala drinks from a spoon. Australia, about 1900. Photo by F. Davey.
Cute puppies on clothesline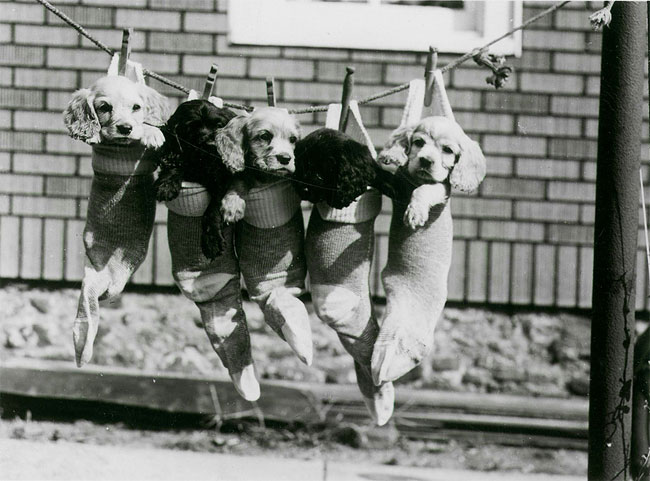 A couple of rich kids, date unknown.
The first match of Real vs Barcelona, 1929.
The smallest shop in history: it was only 1.2 m² in area. London, around 1900.
A portrait of a native American woman, 1926.
Mermaids on the set of 'Peter Pan', 1924.
Paul McCartney and Mick Jagger on a train, 1967.
The legendary Harry Houdini before performing his famous escape act, 1899.
Frida Kahlo wearing a man's suit, 1926.
The morning when Sweden introduced a new law to drive on the right instead of the left, 1967.
Back care with a bear massage. Romania, 1940.
A typical day in Santa Claus school, 1961.
Feeding Polar Bears from a Tank, 1950 (see more!)
German motorcycle courier in Eastern Front, 1942
The first Olympic Marathon in the first modern Olympic Games, Athens, 1896
Couple on a street in New York, 1914
James Dean, 1938
Women railroad workers at lunch. Many were the wives and even mothers of the men who left for war, 1943.
Ellen O'Neal, one of the first professional female skaters, 1976
A salesman has his motorized roller skates refueled at a gas station (1961). (see more!)
California Street, San Francisco, 1964
American sport photographers in the 1910s
Grace Kelly and Jean-Pierre Aumont ride the iconic Cyclone at Coney Island, 1955
A group of women undergoing a slimming course in a courtyard in New York, 1926
Brigiite Bardot being photographed by Sean Connery
Zookeeper giving hippo bundle of hay, 1947
U.K. Police Sergeant Johnson stands along with six little girls dressed as angels outside the Saville Theatre, London, where they are taking part in a matinee given in aid of the Children's League of Pity, 1947
Ali vs. Williams, Houston, Texas, 1966
Beauty contest in Cliftonville, England, 1936
A swimmobile in New York City, 1960
Uploading the first 5 MByte hard disk to a PanAm plane, 1956
Four young women playing volleyball on stilts at the beach in Venice, California, 1934
Actress Jean Seberg in Breathless (1960).
Street fight, Greenville, Texas, ca. 1880s
Do not feed the bears, 1964
Michael Jackson and Whitney Houston on March 10, 1986
A man gives a woman a helping hand as she takes a flying leap over a large puddle on the pavement, 1960
Waterloo Place, London, 1899
A soldier says goodbye to his wife and infant child in Pennsylvania Station before shipping put for service in World War II, New York, 1943
If you want more awesome content, subscribe to 'Oh, Design You Trust,' our brand new Facebook page! Trust me, you won't be disappointed.
More Inspiring Stories