Here are the winners of "Wellcome Photography Prize 2021". Our two winners for 2021 are 'Untangling', Jameisha Prescod's picture of herself knitting to block out her depression during lockdown, and 'Trans Woman: Between Colour and Voice', Yoppy Pieter's series chronicling how the Covid-19 pandemic has made life harder for trans women in Indonesia.
The two winning entries were chosen by a diverse panel of judges from more than 10,000 images submitted from all over the world. Entries spanned six categories: Managing Mental Health series and single image, Fighting Infections series and single image, and Health in a Heating World series and single image.
The other category winners show volunteers disinfecting a theatre near the origin of the first Covid-19 outbreak, a man struggling to survive in the aftermath of a cyclone, a fantasy of depression as a sinister, ever-present fish, and a community whose fertile wetlands have turned to desert.
Managing Mental Health (single image): Untangling by Jameisha Prescod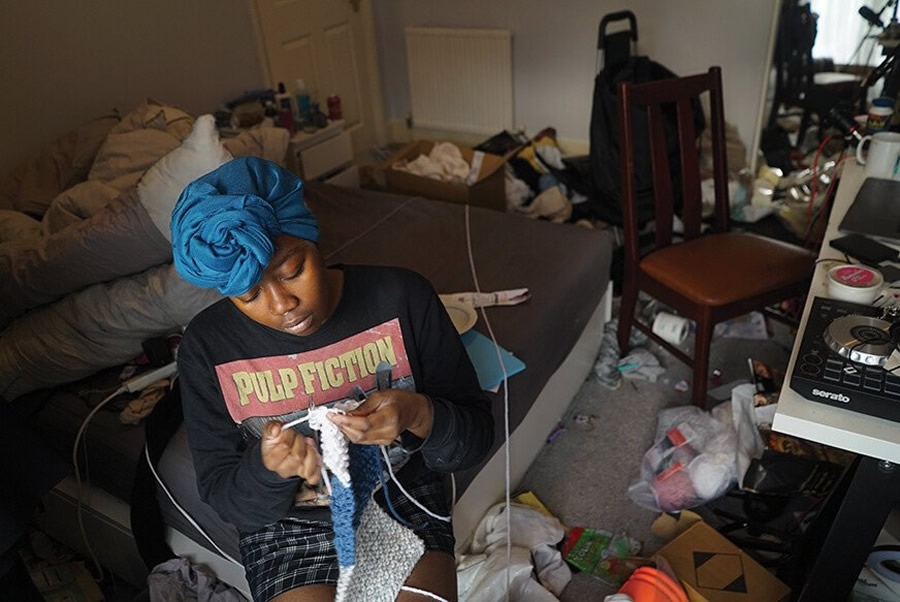 "The isolation of lockdown exacerbated London film maker Jameisha Prescod's depression, as she spent most of her time in the concentrated chaos of this room. "It's where I work a full-time job, eat, sleep, catch up with friends and most importantly cry." Before long, she felt like she was "drowning in the clutter". For escape, she turned to knitting, which helps to soothe her mind. It may not be a cure, but it does at least put "everything else on pause" for a while." Continue reading »