Volkswagen Just Re-Released Everyone's Favourite Hippy-Van… But Now It's Electric
Rumours have begun to circulate about the re-emergence of the iconic VW hippy-van, a beloved road-trip staple and unparalleled adventure machine. Board member, Dr. Heinz-Jakob Neusser spilled the beans at the recent New York Auto Show that Volkswagen is in fact working on producing an electric version of the classic camper bus.
Years of sourcing VW buses from Kijiji, Craigslist and auto-trader websites have long left van enthusiasts wondering why production for the popular vehicle ever halted in the first place. The first VW camper was produced in 1950, and in the '70s, production for the iconic bus was outsourced to Brazil due to a number of changing German safety regulations. In 2013, the assembly-line was halted all together because the vehicles failed to meet a 2014 modification to Brazilian safety standards, including the requirements of ABS and multiple airbags.
The rumours have been confirmed that Volkswagen is producing an electric version of the classic camper bus.
However, with these requirements in mind and a vision of re-invigorating sales in the US, it looks like Volkswagen may be re-introducing the cult-classic with a modern twist of sustainability to create the ultimate form of hippy transportation. Neusser spoke to Autocar about the importance of maintaining a number of "very important" original hippy-bus features.
"First the wide, solid, D-Pillar, second the boxy design of the centre section and, thirdly, the front end must have a very short overhang. The distance from the A-pillar to the front end must be very short."
We can only keep our fingers crossed that it maintains the original aesthetic, unlike previous vehicle concepts.
Re-launching the hippy-bus seems too good to be true—is it possible that Neusser is just getting our hopes up? Unfortunately the new electric model of the hippy-classic is still a concept car, and releasing it to the masses depends largely on manufacturing cost.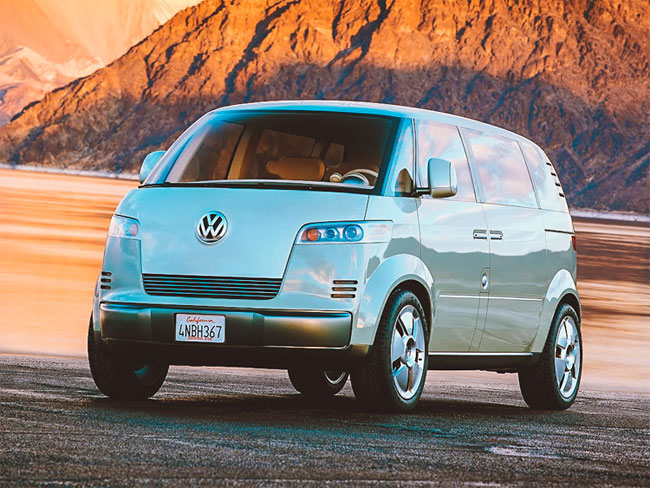 As Outsideonline points out, the company has a track record of teasing hippy-bus diehards with promises of re-initiating the VW factory lines with updated versions of the classic vehicle, including the 2001 Retro Microbus and 2011 Bulli. Still, it's worth noting that neither of these versions hold a candle to the original design. If Volkswagen does revive the old bus from the dead, we can only keep our fingers crossed that it maintains the original aesthetic, rather than slapping the VW logo on a Yaris and trying to make it cool, like the aforementioned 2011 concept.
Via The Plaid Zebra
If you want more awesome content, subscribe to 'Oh, Design You Trust,' our brand new Facebook page! Trust me, you won't be disappointed.
More Inspiring Stories