Artist Humorously Illustrates the Events of His Flight That Every Traveler Can Relate To
Renowned New York Times illustrator Christoph Niemann recently took a transatlantic flight from New York City to Berlin (with a layover in London), and documented the journey in his sketchbook. The trek itself was typical for your average flight of this distance, but this is precisely what makes his work so enjoyable and humorous to read. Niemann perfectly captures the frustration, boredom, and routine that comes from sitting on a plane for over 12 hours.
From "armrest supremacy" to agonizing over bland dinner choices, Niemann records the entire trip using minimalist-style pencil illustrations, which are at times, cartoonishly drawn. Coupled with his amusing observations, they paint a vivid picture of how he was feeling while confined to his seat. He mixes this documentation with some personal fantasies—like being able to "delete" his neighbor—which is painfully relatable if you've ever had an annoying seatmate. The weary traveler ends the drawings with a moment of happiness: the sight of his luggage safely arriving on the baggage claim.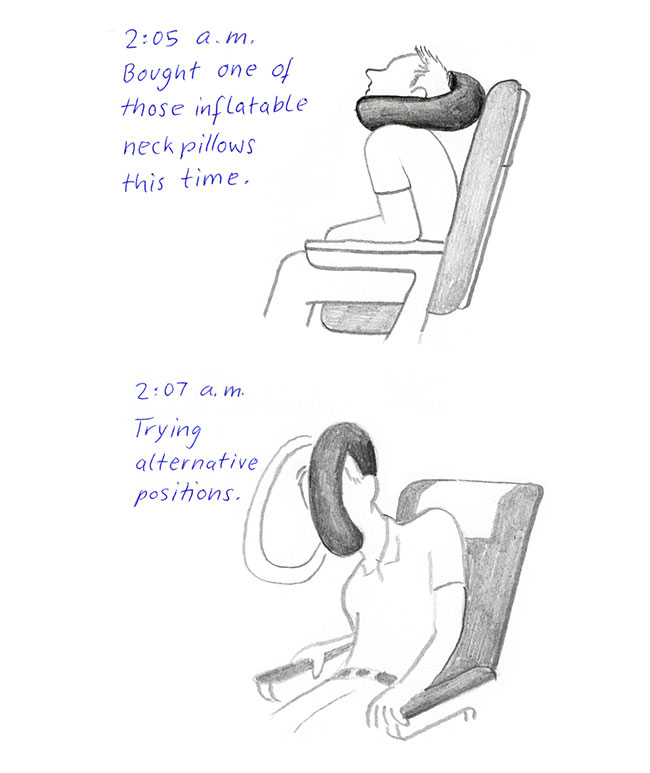 h/t: mymodernmet, bored panda, pleated-jeans
If you want more awesome content, subscribe to 'Oh, Design You Trust,' our brand new Facebook page! Trust me, you won't be disappointed.
More Inspiring Stories