IdealPark Lets You Hide Your Car Underground Like James Bond
With 50 years of experience, Italian company IdealPark has focused on building car lifts with passion and craftsmanship, creating unique custom products, that can be a great alternative to a traditional garage. They also allow you to feel like James Bond just for a moment!
More: IdealPark h/t: contemporist
The system that IdealPark has created, enables cars to be transported to different levels of the home, much like a lift, moving cars from street level to an underground garage.
IdealPark can be installed where there's not enough space for a ramp to reach the underground garage, like in city centres, or where the client prefers to make use of the space, like having a courtyard or garden, instead of having it designated to being a driveway.
Seen in these photos is an example of their work, where the access point for an underground parking space hides its location in plain sight beneath a courtyard. Due to the house being located on top of a cliff, the space for parking was limited, and instead of creating a ramp to reach the underground carpark, the lift parking system became an alternative solution.
The roof of the lift can be covered in a variety of materials, and can be customized through a wide choice of colors, lights, and finishes.
When the lift is needed, it can be activated to raise up out of the ground, which then allows the car to be driven onto the lift.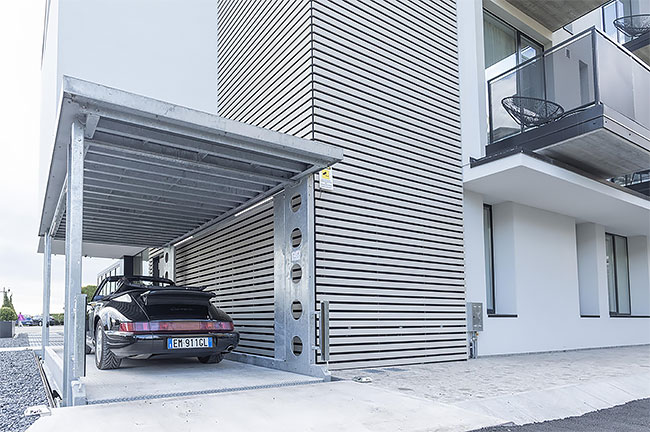 If you want more awesome content, subscribe to 'Oh, Design You Trust,' our brand new Facebook page! Trust me, you won't be disappointed.
More Inspiring Stories