Exploring the World of Studio Ghibli Through the Eyes of Louise Terrier
Howl's Moving Castle

Louise Terrier's stunning paintings pay homage to some of the most beloved heroes of Japanese anime movies. Taking inspiration from Studio Ghibli's iconic films like "My Neighbor Totoro," "Spirited Away," and "Princess Mononoke," Terrier infuses her own creative flair into these well-known characters, bringing them to life in her unique style.
More: Louise Terrier, Facebook, Tumblr h/t: boredpanda
My Neighbor Totoro

As a French artist, painter, and sculptor, Terrier has been scribbling since childhood. Her love for watercolor paintings has remained a constant throughout her studies and beyond, and her dedication to her craft is evident in the intricate details and beautiful compositions of her artwork.
Spirited Away

Studio Ghibli's films are widely regarded as some of the best-animated films in history, exploring themes of nature, environmentalism, and human connections. Their attention to detail in background art is a hallmark of their style, bringing the worlds they create to life in vivid and stunning detail.
Princess Mononoke

Louise Terrier's paintings capture the essence of Studio Ghibli's films, paying tribute to their unique storytelling and beautiful animation. Her work is a celebration of creativity and imagination, and a reminder of the impact that great storytelling can have on our lives.
My Neighbor Totoro

Howl's Moving Castle

Howl's Moving Castle

Castle In The Sky

My Neighbor Totoro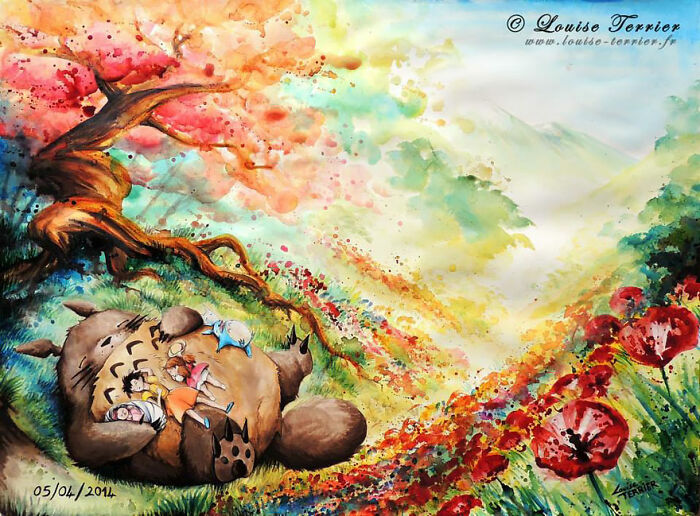 Howl's Moving Castle

Kiki's Delivery Service

My Neighbor Totoro

My Neighbor Totoro

Princess Mononoke

If you want more awesome content, subscribe to 'Oh, Design You Trust,' our brand new Facebook page! Trust me, you won't be disappointed.
More Inspiring Stories